Family Love and Joy
Domestic Bliss
Wall Scroll


Typical Gallery Price: $60.00
$25.00
Sold Out
Sorry you missed it.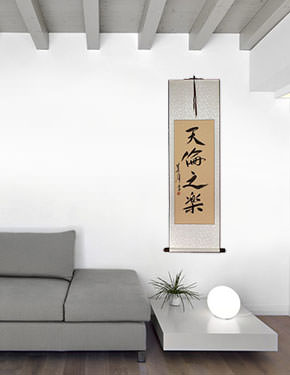 This artwork will look great in your home or office.
This wall scroll is discounted because of a minor paper flaw and because the ink came out a bit light.
天倫之樂 means family love and joy, or domestic bliss in Mandarin Chinese.

The first two characters mean, "the bonds of the family".
The third character connects this to the fourth character which means happiness, joy, and cheerful.
This item was listed or modified
Aug 10th, 2018
Typical Gallery Price: $60.00
$25.00
Sold Out
Sorry you missed it.
Related and Recommended Items...