Happy Thanksgiving! We're doing a short family vacation right now. Orders for in-stock items will shipped on Monday Nov 26th.

Ships from:

This artwork is
100% hand-painted.
---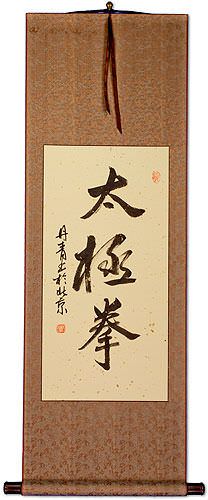 Tai Chi Fist
DISCOUNTED: This just has a minor wrinkle. The wrinkles are only visible if the light hits this at certain angles (from above). Otherwise perfect.
This is Taichi Quan, which is also referred to as Tai Chi Fist, Tai Qi Fist, and sometimes run together as Taijiquan.
---
See our Tai Chi page for more custom Tai Chi calligraphy options.
This item was listed or modified
Jun 30th, 2018
Similar Items...
Gallery Price: $85.00
Your Price: $46.88
Gallery Price: $200.00
Your Price: $85.88
Gallery Price: $200.00
Your Price: $85.88
Gallery Price: $200.00
Your Price: $85.88
Gallery Price: $106.00
Your Price: $58.88
Gallery Price: $85.00
Your Price: $46.88
Gallery Price: $85.00
Your Price: $46.88
Gallery Price: $106.00
Your Price: $58.88
Gallery Price: $53.00
Your Price: $29.00
Gallery Price: $142.00
Your Price: $78.88