Buy a Custom Princess Chinese or Japanese Calligraphy Wall Scroll
We have many options to create artwork with the Chinese characters / Asian symbols / Japanese Kanji for Princess on a wall scroll or portrait.
If you want to create a cool Princess wall scroll, this is the place. Below you will find a few Asian symbols that express the idea of Princess.

美麗的公主 is how to write beautiful princess in Chinese.

The first two characters mean feminine beauty or rather a way to say beautiful that only applies to women. The middle character is just a connecting character. The last two characters mean princess.
---
See Also: Queen
Beauty / Beautiful Princess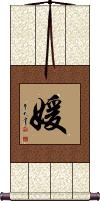 媛 means, a beauty; beautiful (woman); princess; young lady of noble birth; girl; small & lovely.

媛 is used a bit more commonly in Chinese than Japanese.
---
Note: This can be the female given name "Hime" in Japanese.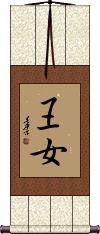 王女 is a Japanese title that means princess.
Broken Mirror Rejoined
Used in modern times for divorced couples that come back together

A husband and wife separated and reunited.

About 1500 years ago in China, there lived a beautiful princess named Le Chang. She and her husband Xu De Yan loved each other very much. But when the army of the Sui Dynasty was about to attack their kingdom, disposed of all of their worldly possessions and prepared to flee into exile.

They knew that in the chaos, they might lose track of each other, so the one possession they kept was a bronze mirror which is a symbol of unity for a husband and wife. They broke the mirror into two pieces, and each of them kept half of the mirror. They decided that if separated, they would try to meet in the fair during the 15th day of the first lunar month (which is the lantern festival). Unfortunately, the occupation was brutal, and the princess was forced to become the mistress of the new commissioner of the territory, Yang Su.

At the Lantern Festival the next year, the husband came to the fair to search for his wife. He carried with him, his half of the mirror. As he walked through the fair, he saw the other half of the mirror for sale at a junk market by a servant of the commissioner. The husband recognized his wife's half of the mirror immediately, and tears rolled down his face as he was told by the servant about the bitter and loveless life that the princess had endured.

As his tears dripped onto the mirror, the husband scratched a poem into his wife's half of the mirror:
---
You left me with the severed mirror,
The mirror has returned but absent are you,
As I gaze in the mirror I seek your face,
I see the moon but as for you, I see not a trace.
---
The servant brought the inscribed half of the mirror back to the princess. For many days, the princess could not stop crying when she found that her husband was alive and still loved her.

Commissioner Yang Su, becoming aware of this saga realized that he could never obtain the love of the princess. He sent for the husband and allowed them to reunite.

This proverb, 破鏡重圓, is now used to describe a couple who has been torn apart for some reason (usually divorce) but have come back together (or remarried).
It seems to be more common these days in America for divorced couples to reconcile and get married to each other again. This would be a great gift if you know someone who is about to remarry their ex.
The following table may be helpful for those studying Chinese or Japanese...
Title
Characters
Romaji

(Romanized Japanese)

Various forms of Romanized Chinese
Beautiful Princess
美麗的公主

---

美丽的公主
měi lì de gōng zhǔ

---

mei3 li4 de gong1 zhu3

---

mei li de gong zhu

---

meilidegongzhu
mei li te kung chu

---

meilitekungchu
Beauty
Beautiful Princess
媛
hime / haru
yuàn / yuan4 / yuan
yüan
Princess
王女
oujo / ojo
Broken Mirror Rejoined
破鏡重圓

---

破镜重圆
pò jìng chóng yuán

---

po4 jing4 chong2 yuan2

---

po jing chong yuan

---

pojingchongyuan
p`o ching ch`ung yüan

---

pochingchungyüan

---

po ching chung yüan
In some entries above you will see that characters have different versions above and below a line.
In these cases, the characters above the line are Traditional Chinese, while the ones below are Simplified Chinese.
All of our calligraphy wall scrolls are handmade.
When the calligrapher finishes creating your artwork, it is taken to my art mounting workshop in Beijing where a wall scroll is made by hand from a combination of silk, rice paper, and wood.
After we create your wall scroll, it takes at least two weeks for air mail delivery from Beijing to you.
Allow a few weeks for delivery. Rush service speeds it up by a week or two for $10!
When you select your calligraphy, you'll be taken to another page where you can choose various custom options.