Custom Opportunity Chinese & Japanese Calligraphy Wall Scroll
We have many options to create artwork with Opportunity characters on a wall scroll or portrait.
If you want to create an Opportunity wall scroll, this is the place. Below you will find a few Asian symbols that express the idea of Opportunity.
---
---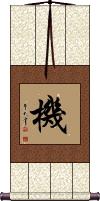 機 is an odd one - I've seen this on coffee cups and posters with the meaning of "opportunity".

機 is a correct definition but this character also means "machine". In fact, if you put the character for "flying" in front of this character, you have the Chinese word for "airplane" (literally: flying machine). Alone, on a wall scroll, it will be generally understood as "opportunity" but I want you to know this extra information before you make your selection. Note that in Japanese and Korean, this has a similar meaning but can also mean machine or loom.
---
See Also: Success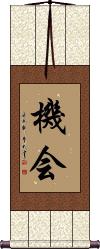 機会 is a common way to express "opportunity" in Japanese.

The first character means "chance" and the second can be translated as "meeting".

So in Japanese business a "chance meeting" represents a real "opportunity".

Note that this also means opportunity in Chinese but it's more an oral or informal word in Mandarin. Also, the second Kanji is the same as the simplified version of the hui Chinese character.
Opportunity
Opportune Time

時機 is a common way to express day-to-day opportunities.

It's sometimes used to express "an occasion".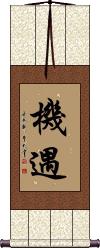 機遇 is the kind of opportunity that comes via good luck or good fortune.

機遇 is sometimes translated as "stroke of good luck".

While there are other ways to express "opportunity", I think this version is best for a calligraphy wall scroll or portrait.

Note: In Korean Hanja, this would also mean "Meeting someone under strange circumstances".
---
See Also: Good Luck
Crisis equals Danger plus Opportunity?

Separately, the first character here does mean "danger" or "to endanger" and the second character can mean "opportunity".

However, I want to debunk a myth that was propagated by some westerners who did not have a clear understanding of Asian languages...

While often, Chinese/Japanese/Korean compound words (words of two or more characters) are the sum of their parts, this is not always the case. The compound is often understood with a completely different meaning than the two characters individually.

Many have said that the Chinese/Japanese/Korean word for Crisis is made up of the characters for "danger" and "opportunity". 危機 is true when phrased this way.
However, it's not absolutely correct to say that "danger + opportunity = crisis" in Asian cultures.

English example:
If I tell you that...
Bovine creature + Guy behind the plate in baseball = Locomotive protection
...you would think I was mad. But consider that "cow + catcher = cowcatcher", which is the device that used to be found on steam engines to protect them if they hit an animal on the tracks. When we hear the word "cowcatcher" we don't separate the words into their individual meanings (necessarily).
The same is true with the word for crisis in Chinese/Japanese/Korean. While you can separate the characters, few Asian people would automatically do so in their minds.

The final answer:
It is a half-truth to say, "danger plus opportunity equals crisis" in Chinese/Japanese/Korean. Use this statement and concept with caution.

Also, the second character can mean "secret" or "machine" depending on context so I guess you have to say "a dangerous machine = crisis" or "danger + a secret = crisis". Both of these are only slightly more ridiculous than the first premise.

PS: 危機 is probably not a great word for a scroll, unless you have a special use for it.
Fate / Opportunity / Chance
Buddhist idea of Fate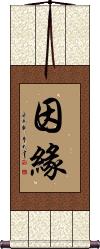 因緣 is the Buddhist concept of a chance meeting or an opportunity that presents itself by fate.

Sometimes this is used to describe a cosmic chain of events or cause and effect.

It also is used to describe predestined relationships between people - and sometimes married couples (although if you want one about marriage, try this: Fate / Destiny of Lovers.

因緣 can also be translated as origin, karma, destiny, affinity, connection, and relation. This all depends on context - seen alone on a wall scroll, this will be read with a "fate / chance" meaning by a Chinese person, or a Korean person who can read Hanja.

The more complex definition of this word would be, "Direct causes and indirect conditions, which underlie the actions of all things".

This concept is known as nidana in the original Sanskrit. Also sometimes presented as hetupratyaya (or "hetu and prataya") which I believe is Pali.
---
Note: Japanese will tend to use this version of the second Kanji:


If you order this from the Japanese master calligrapher, expect that you'll get this version. However, this word often carries a negative connotation in Japanese (bad things happen), as it is used that way in a certain Japanese idiom. Therefore, this may not be the best choice if Japanese is your target language.
---
See Also: Buddhism
Confucius: Universal Education
zì xíng shù xiū yǐ shàng wú wèi cháng wú huì yān

This quote from the Analects of Confucius translates as:

For anyone who brings even the smallest token of appreciation, I have yet to refuse instruction.

Another way to put it is: If a student (or potential student) shows just an ounce of interest, desire, or appreciation for the opportunity to learn, a teacher should offer a pound of knowledge.
---
This was written over 2500 years ago. The composition is in ancient Chinese grammar and phrasing. A modern Chinese person would need a background in Chinese literature to understand this without the aid of a reference.
shī bài bìng fēi yì zhǒng xuǎn zé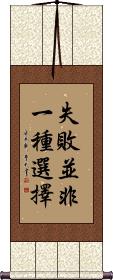 This is probably the best way to say, "Failure is not an option", in Chinese.

Just don't forget that some ancient Chinese proverbs suggest that failure is a learning opportunity that leads to success or innovation. So don't plan to fail but failure is only a waste if nothing is learned from the failure.
---
See Also: Failure is a Stepping Stone to Success | Failure is the Mother of Success
The Mysterious Bond Between People
The invisible force that brings people together forever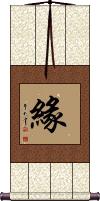 緣 represents the fate that brings and bonds people together.

緣 is a complicated single character. It can mean a lot of different things depending on how you read it.

In Japanese, it can mean fate, destiny, a mysterious force that binds two people together, a relationship between two people, bond, link, connection, family ties, affinity, opportunity, chance (to meet someone and start a relationship). It can also mean "someone to rely on", relative, reminder, memento, or the female given name, Yori.

It's basically the same in Chinese, where it's defined as cause, reason, karma, fate, or predestined affinity.

In the Buddhist context, it's Pratyaya. 緣 / 縁 is the concept of indirect conditions, as opposed to direct causes. It's when something happens (meeting someone) by circumstance or a contributing environment. Instead of a direct cause or act, it is a conditioning cause without direct input or action by the involved people.

Occasionally, this character is used in a facetious way to say hem, seam, or edge of clothing. In this case, it's the seam that brings or holds the clothing together.
---

Note: Japanese will tend to use the variant of this Kanji shown to the right. If you want this version (and are ordering this from the Japanese master calligrapher), click on the Kanji at the right instead of the button above.

This Japanese title can be translated as "for this time only", "chance meeting", "one meeting, one opportunity", "never again", or "one chance in a lifetime".

The characters literally mean "one time one meeting" - of course, the Kanji characters have meaning far beyond a direct translation like this.

Some might use this proverb to talk of an opportunity that presents itself just once in your life. It could also be the single chance-meeting with your true soul mate. Basically an expression for any event that might happen once in a lifetime.
---
This is primarily a Japanese title, however, there is also a Traditional Chinese (and old Korean) version of this proverb. Just the last character is different.


The traditional form was used in Japan before WWII and in Korea prior to 1900. This title is somewhat known in China.

If you want the older traditional form, just click on the character to the right.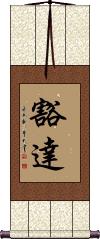 Beyond optimistic, this word can also be defined as sanguine; magnanimous; open-minded; openhearted; broad-minded.

豁達 is appropriate if you are, or want to be, the kind of person who is not bothered by the little things or minor troubles of life. This signifies a person who always feels things will get better. 豁達 is great for the person who figuratively sees a window of opportunity opening even as a door closes.
---
While a valid word in Japanese, this is kind of antiquated, and not in common use in modern Japan.
Phoenix Rise from the Ashes

This proverb suggests "Legendary Phoenix rises from the ashes". Literally, it means, "Legendary Phoenix [reaches] Nirvana".

There is a legend in China of a great bird which is reborn once every 500 years. This bird gathers all the ill-will, suffering, desire, and other negative things of the whole world. The bird then plunges into the fire to burn away all negative things, sacrificing itself in the process (achieving Nirvana, or perhaps allowing others the opportunity to reach Nirvana).

500 years later, the phoenix is reborn from the ashes again, and the cycle repeats.
The following table may be helpful for those studying Chinese or Japanese...
Title
Characters
Romaji

(Romanized Japanese)

Various forms of Romanized Chinese
Opportunity
機

---

机
hata
jī / ji1 / ji
chi
Opportunity
機會

---

机会
kikai
jī huì / ji1 hui4 / ji hui / jihui
chi hui / chihui
Opportunity
時機

---

时机
shí jī / shi2 ji1 / shi ji / shiji
shih chi / shihchi
Opportunity
Good Luck
機遇

---

机遇
jī yù / ji1 yu4 / ji yu / jiyu
chi yü / chiyü
Crisis equals Danger plus Opportunity?
危機

---

危机
kiki
wēi jī / wei1 ji1 / wei ji / weiji
wei chi / weichi
Fate
Opportunity
Chance
因緣

---

因缘 / 因縁
in nen / innen
yīn yuán / yin1 yuan2 / yin yuan / yinyuan
yin yüan / yinyüan
Confucius: Universal Education
自行束脩以上吾未嘗無誨焉 (note 嘗 = 嚐)

---

自行束脩以上吾未尝无诲焉
zì xíng shù xiū yǐ shàng wú wèi cháng wú huì yān

---

zi4 xing2 shu4 xiu1 yi3 shang4 wu2 wei4 chang2 wu2 hui4 yan1

---

zi xing shu xiu yi shang wu wei chang wu hui yan
tzu hsing shu hsiu i shang wu wei ch`ang wu hui yen

---

tzu hsing shu hsiu i shang wu wei chang wu hui yen
Failure in Not an Option
失敗並非一種選擇

---

失败并非一种选择
shī bài bìng fēi yì zhǒng xuǎn zé

---

shi1 bai4 bing4 fei1 yi4 zhong3 xuan3 ze2

---

shi bai bing fei yi zhong xuan ze
shih pai ping fei i chung hsüan tse
The Mysterious Bond Between People
緣 / 縁

---

缘
en
yuán / yuan2 / yuan
yüan
Once in a Lifetime
一期一會

---

一期一会
ichigoichie
yī qī yī huì

---

yi1 qi1 yi1 hui4

---

yi qi yi hui

---

yiqiyihui
i ch`i i hui

---

ichiihui

---

i chi i hui
Optimistic
豁達

---

豁达
katsudatsu
huò dá / huo4 da2 / huo da / huoda
huo ta / huota
Phoenix Rise from the Ashes
鳳凰涅磐

---

凤凰涅磐
fèng huáng niè pán

---

feng4 huang2 nie4 pan2

---

feng huang nie pan

---

fenghuangniepan
feng huang nieh p`an

---

fenghuangniehpan

---

feng huang nieh pan
In some entries above you will see that characters have different versions above and below a line.
In these cases, the characters above the line are Traditional Chinese, while the ones below are Simplified Chinese.
All of our calligraphy wall scrolls are handmade.
When the calligrapher finishes creating your artwork, it is taken to my art mounting workshop in Beijing where a wall scroll is made by hand from a combination of silk, rice paper, and wood.
After we create your wall scroll, it takes at least two weeks for air mail delivery from Beijing to you.
Allow a few weeks for delivery. Rush service speeds it up by a week or two for $10!
When you select your calligraphy, you'll be taken to another page where you can choose various custom options.