Custom Not Only Can Water Float A Boat It Can Sink It Also Chinese Calligraphy Wall Scroll
We have many options to create artwork with "Not Only Can Water Float A Boat It Can Sink It Also" characters on a wall scroll or portrait...

沈魚落雁 is an old proverb that literally means "fish sink, goose alights."

...But this takes some explaining. This is a proverb from Zhuangzi (莊子), who lived in the late 4th century BC.

This figuratively refers to female beauty that is so captivating that even the birds and beasts take notice.

Perhaps a better and more accurate way to describe this is to say that it speaks of the charms of a uniquely beautiful woman who is so beautiful that fish stay on the bottom of the water and flying wild geese fall from the sky in shame.

This proverb is so famous that it is also known and used in Japan (same characters, different pronunciation).
---
Note: This can also be written 沉魚落雁 instead of 沈魚落雁 (just the first character varies slightly).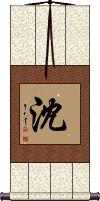 This is a Chinese surname that romanizes as Shen from Mandarin or Shum from Cantonese.

In Japanese, it can be the surnames Chin, Chimu, Sen, Sun, Shin, or Shimu.

The meaning is to sink or heavy.

This 沈 character is a variant of 沉.
Not Only Can Water Float A Boat, It Can Sink It Also
shuǐ néng zài zhōu yì néng fù zhōu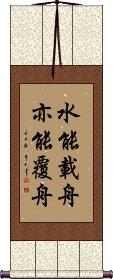 Many things have opposite properties. The water you drink can also drown you. Pork may nourish you and keep you alive but under-cook it and it could kill you. Potassium nitrate is often used as a fertilizer to grow the food that sustains us but it's also been used as an explosive to topple buildings and destroy us.

This concept is easily associated with "yin yang" where an element has two opposite properties that are as different as night and day.

This proverb's meaning can be summed up this way: "Anything that can lead you to success may also contain great risks."

This phrase is known in literary circles by Korean people (scholars or literature). It is therefore also a valid proverb in Korean Hanja, though most Koreans would not be able to make sense of it.

Please note that there is an unwritten rule when the same character appears twice in the same phrase, the calligrapher will alter the appearance so that no two characters are exactly alike in the same piece. This calligraphy has two repeating characters that will be written differently than they appear here.
The following table may be helpful for those studying Chinese or Japanese...
Title
Characters
Romaji

(Romanized Japanese)

Various forms of Romanized Chinese
Beautiful Woman Proverb
沈魚落雁

---

沈鱼落雁
chin gyo raku gan

---

chingyorakugan
chén yú luò yàn

---

chen2 yu2 luo4 yan4

---

chen yu luo yan

---

chenyuluoyan
ch`en yü lo yen

---

chenyüloyen

---

chen yü lo yen
Shen
Shum
沈
jin
shěn / shen3 / shen
Not Only Can Water Float A Boat, It Can Sink It Also
水能載舟亦能覆舟

---

水能载舟亦能覆舟
shuǐ néng zài zhōu yì néng fù zhōu

---

shui3 neng2 zai4 zhou1 yi4 neng2 fu4 zhou1

---

shui neng zai zhou yi neng fu zhou
shui neng tsai chou i neng fu chou
In some entries above you will see that characters have different versions above and below a line.
In these cases, the characters above the line are Traditional Chinese, while the ones below are Simplified Chinese.
All of our calligraphy wall scrolls are handmade.
When the calligrapher finishes creating your artwork, it is taken to my art mounting workshop in Beijing where a wall scroll is made by hand from a combination of silk, rice paper, and wood.
After we create your wall scroll, it takes at least two weeks for air mail delivery from Beijing to you.
Allow a few weeks for delivery. Rush service speeds it up by a week or two for $10!
When you select your calligraphy, you'll be taken to another page where you can choose various custom options.