The Name Peter in Japanese/Chinese on a Custom-Made Wall Scroll.
Click the "Customize" button next to your name below to start your personalized Peter calligraphy artwork...
Nǐ men ruò shì rè xīn xíng shàn yǒu shéi hài nǐ men ne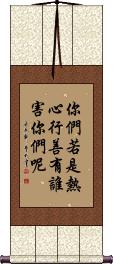 Here is 1 Peter 3:13 in Chinese.

The text with punctuation:
你们若是热心行善,有谁害你们呢?

Hand-painted calligraphy does not retain punctuation.

This translation is from the Chinese Union Bible.

You may know it from the KJV as:
And who is he that will harm you, if ye be followers of that which is good?
The following table may be helpful for those studying Chinese or Japanese...
Title
Characters
Romaji

(Romanized Japanese)

Various forms of Romanized Chinese
Peter
彼得
bǐ dé / bi3 de2 / bi de / bide
pi te / pite
Peter
ピーター
piitaa / pita
1 Peter 3:13
你們若是熱心行善有誰害你們呢

---

你们若是热心行善有谁害你们呢
Nǐ men ruò shì rè xīn xíng shàn yǒu shéi hài nǐ men ne

---

ni3 men ruo4 shi4 re4 xin1 xing2 shan4 you3 shei2 hai4 ni3 men ne

---

ni men ruo shi re xin xing shan you shei hai ni men ne
ni men jo shih je hsin hsing shan yu shei hai ni men ne
In some entries above you will see that characters have different versions above and below a line.
In these cases, the characters above the line are Traditional Chinese, while the ones below are Simplified Chinese.
Many custom options...




And formats...



All of our calligraphy wall scrolls are handmade.
When the calligrapher finishes creating your artwork, it is taken to my art mounting workshop in Beijing where a wall scroll is made by hand from a combination of silk, rice paper, and wood.
After we create your wall scroll, it takes at least two weeks for air mail delivery from Beijing to you.
Allow a few weeks for delivery. Rush service speeds it up by a week or two for $10!
When you select your calligraphy, you'll be taken to another page where you can choose various custom options.
Some people may refer to this entry as Peter Kanji, Peter Characters, Peter in Mandarin Chinese, Peter Characters, Peter in Chinese Writing, Peter in Japanese Writing, Peter in Asian Writing, Peter Ideograms, Chinese Peter symbols, Peter Hieroglyphics, Peter Glyphs, Peter in Chinese Letters, Peter Hanzi, Peter in Japanese Kanji, Peter Pictograms, Peter in the Chinese Written-Language, or Peter in the Japanese Written-Language.
Pan is a Chinese name. So, is Peter Chinese? | Answerbag
Pan is a Chinese name. So, is Peter Chinese? I don't think so :) My initials are PAN, and I don't have a drop of asian blood in me. +5
Chinese Name for Peter - Chinese Characters
Chinese Name for Peter - Chinese Names and Characters translated from English names, personal Chinese chop, t-shirt and pendant - csymbol.com
Where does the name Peter come from? | Answerbag
Pan is a Chinese name. So, is Peter Chinese? Where does the last name krenke come from; Where does the last name Sljoka come from? Where did the last name pierce come from
"Peter" in Chinese, calligraphy, pronunciation.
Your name in English, Chinese character, Pinyin pronunciation and Calligraphy.
The Peter Marlin Story - Symbolism
The Peter
Marlin Story - Symbolism
Evil Symbols
The fact is that this
symbol
has been known as
Peter's
Cross for the better part of two-thousand years.
... CROSS - Many people assume that the cross is a Christian
symbol
.
Peter S. Quinn Chord Symbols
The best approach is to be flexible, developing a consistent set of rules for ...
The symbol for
a minor triad is the letter name of the chord plus "mi,...
Ship as a Symbol of the Church (Bark of St. Peter) -- Early ...
The ship (bark or barque, barchetta) was an ancient Christian
symbol
. Imagry comes from Noah's ark, Jesus protecting
Peter's
boat in a storm on the sea of Galilee,...
Peter Suber, "Propositional Logic Terms and Symbols"
We will use
the symbols
, , -- , , and to designate the sentential connectives.
...
The symbols for
statements and for operators comprise our notation or symbolic language.
Peter Suber, "Predicate Logic Terms and Symbols"
Hence, the proposition "Socrates is mortal" might be translated "Ms": "M" for the ... If we introduce
the
"="
symbol
to abbreviate the two-place predicate of identity, and if...
300 Years of St. Petersburg - Swiss architecture on the Neva
Tsar
Peter
I founded the city of St Petersburg on the Neva in 1703 under the compulsion ... The new city became a
symbol
of
Peter's
ardent desire to Europeanise...
Cartographic Symbol Construction with MapServer - MapServer ...
This Document refers to the syntax of MAP and symbolfiles for MapServer 4.6.
... Both the minimum reasonable display size
for symbols
and the minimum of space required to...