Custom In Wine There Is Truth Chinese & Japanese Calligraphy Wall Scroll
We have many options to create artwork with In Wine There Is Truth characters on a wall scroll or portrait....
---
---

This demon title comes from the ancient Sanskrit word Asura.

阿修羅 is often used in Buddhism when describing various demons. Sometimes defined as "Fighting and battling a giant demon."

In the context of Buddhism: This title originally meant a spirit, spirits, or even the gods (perhaps before 1700 years ago). It now generally indicates titanic demons, enemies of the gods, with whom, especially Indra, they wage constant war. They are defined as "not devas," "ugly," and "without wine." There are four classes of asuras, separated according to their manner of rebirth. They can be egg-born, womb-born, transformation-born, and spawn- or water-born. Their abode is in the ocean, north of Sumeru but certain of the weaker dwell in a western mountain cave. They have realms, rulers, and palaces, as have the devas.

In terms of power, Asuras rank above humans but below most other deities. They live near the coastal foot of Mount Sumeru (on the northern side). Their domain is partially or wholly in the ocean.

葡萄酒 is the Chinese, Japanese Kanji, and old Korean Hanja for wine.

Very specifically, this is for grape wine (an important distinction in Asia where most wines were rice-based until western influences came into play).

The first word, 葡萄 literally means grape (or grapevine), and 酒 means alcohol (generic term for alcohol, sake, wine, liquor).

華佗 or Hua Tuo was a Chinese physician who lived during the late Eastern Han dynasty.

The historical texts Records of the Three Kingdoms and Book of the Later Han record Hua Tuo as the first person in China to use anesthesia during surgery.

Hua Tuo used a general anesthetic combining wine with a herbal concoction called 麻沸散, literally, "cannabis boil powder." This was in the second century AD, almost 1700 years before western medicine had any form of anesthesia (1846).

酒池肉林 is a Chinese idiom that is also somewhat known in Japanese and Korean.

This literally means "lakes of wine and forests of meat."

Figuratively, it refers to debauchery, sumptuous entertainment, a sumptuous feast, or any kind of ridiculously-lavish spread of food and wine.

酒后吐真言 / 酒後吐真言 is a nice Asian proverb if you know a vintner or wine seller - or wine lover - although the actual meaning might not be exactly what you think or hope.

The literal meaning is that someone drinking wine is more likely to let the truth slip out. It can also be translated as "People speak their true feelings after drinking alcohol."

It's long believed in many parts of Asia that one can not consciously hold up a facade of lies when getting drunk, and therefore the truth will come out with a few drinks.

I've had the experience where a Korean man would not trust me until I got drunk with him (I was trying to gain access to the black market in North Korea which is tough to do as an untrusted outsider) - so I think this idea is still well-practiced in many Asian countries.

VS

Please note that there are two common ways to write the second character of this phrase. The way it's written will be left up to the mood of the calligrapher, unless you let us know that you have a certain preference.
---
See Also: Honesty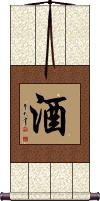 酒 is the Chinese character, Korean Hanja, and Japanese Kanji which means alcohol.

This can refer to wine (esp. rice wine), liquor, spirits, sake, or to alcoholic beverages in general.

In the west, we tend to say "sake" to mean Japanese rice wine, however, this character is a little ambiguous in Japanese. It literally just means alcohol and is often pronounced "shu" in Japanese. Specifically, in Japanese, you might want to ask for "seishu" or 清酒 to get the sake that you are used to in the west. Seishu literally means "clear alcohol."
This in-stock artwork might be what you are looking for, and ships right away...
The following table may be helpful for those studying Chinese or Japanese...
Title
Characters
Romaji

(Romanized Japanese)

Various forms of Romanized Chinese
Frightful Demon
Asura
阿修羅

---

阿修罗
ashura
ē xiū luó

---

e1 xiu1 luo2

---

e xiu luo

---

exiuluo
o hsiu lo

---

ohsiulo
Wine
葡萄酒
bu dou shu / bu dou sake

---

budoushu / budousake

---

bu do shu / bu do sake
pú tao jiǔ

---

pu2 tao5 jiu3

---

pu tao jiu

---

putaojiu
p`u t`ao chiu

---

putaochiu

---

pu tao chiu
Hua Tuo
華佗

---

华佗
huá tuó / hua2 tuo2 / hua tuo / huatuo
hua t`o / huato / hua to
Sherry
雪利
xuě lì / xue3 li4 / xue li / xueli
hsüeh li / hsüehli
Sumptuous Debauchery
酒池肉林
shu chi niku rin

---

shuchinikurin
jiǔ chí ròu lín

---

jiu3 chi2 rou4 lin2

---

jiu chi rou lin

---

jiuchiroulin
chiu ch`ih jou lin

---

chiuchihjoulin

---

chiu chih jou lin
In Wine there is Truth
酒后吐真言 / 酒後吐真言

---

酒后吐真言
jiǔ hòu tǔ zhēn yán

---

jiu3 hou4 tu3 zhen1 yan2

---

jiu hou tu zhen yan

---

jiuhoutuzhenyan
chiu hou t`u chen yen

---

chiuhoutuchenyen

---

chiu hou tu chen yen
Wine
Alcohol
Sake
酒
sake / shu
jiǔ / jiu3 / jiu
chiu
Zhang Fei
張飛

---

张飞
chou hi / chouhi / cho hi
zhāng fēi

---

zhang1 fei1

---

zhang fei

---

zhangfei
chang fei

---

changfei
In some entries above you will see that characters have different versions above and below a line.
In these cases, the characters above the line are Traditional Chinese, while the ones below are Simplified Chinese.
Many custom options...




And formats...




All of our calligraphy wall scrolls are handmade.
When the calligrapher finishes creating your artwork, it is taken to my art mounting workshop in Beijing where a wall scroll is made by hand from a combination of silk, rice paper, and wood.
After we create your wall scroll, it takes at least two weeks for air mail delivery from Beijing to you.
Allow a few weeks for delivery. Rush service speeds it up by a week or two for $10!
When you select your calligraphy, you'll be taken to another page where you can choose various custom options.