We have many options to create artwork with Cooperation characters on a wall scroll or portrait.

xié zuò

kyou saku

협작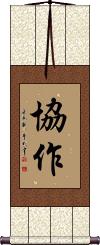 Cooperation is working together and sharing the load. When we cooperate, we join with others to do things that cannot be done alone. We are willing to follow the rules which keep everyone safe and happy. Together we can accomplish great things.

The first character means "united" or "to coordinate." The second character means "to do," "to make," or "to compose." Knowing this, you can understand why together, these characters create a word that can be defined as "cooperation" in Chinese, Japanese, and Korean.

It is implied that you are cooperating to create some project or product.
---
See Also: Partnership

xié lì

kyouryoku

협력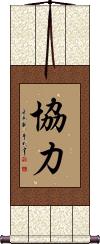 If you look at the second character, which means "strength" or "power," and then you look at the first character, you will see that the first character seems to represent multiple "strengths" together. Thus, you can visually see the meaning of this word as "stronger when working together." The combination of characters that form this word is commonly seen in Japanese Kanji and Korean Hanja but not used in China (however, a Chinese person could probably guess the meaning, and it can be pronounced in Chinese).

It is implied that you are cooperating to create some project or product.

This can also be translated as "joint effort."
---
See Also: Partnership

xié tóng

kyou dou

협동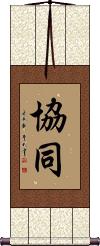 This Japanese, Chinese, and Korean word means: to cooperate; in coordination with; coordinated; collaborate; collaboration; collaborative; doing together (as equals).

Some will also use this as a short way to express the western idea of synergy (collaboration for a better result). There's a longer word, 協同作用, that adds "action" to this word, and more directly means synergy.

ki ken tai icchi
This often gets translated as "Mind Sword Body," or "Spirit, Sword and Body as One." But I think these translations don't tell you enough about what this is really saying.

In this context, 気, which is the modern Japanese version of 氣, means spiritual and unseen energy or "life energy." In some cases, 気 can be translated as spirit, feeling, or nature. If defined as mind, it's more about invisible or intangible part of one's mind (or soul).

剣 is the Japanese version of 劍 meaning sword.

体 is the modern Japanese version of 體 meaning body.

The Kanji 一 means one, and in this case suggests "all in one." The Kanji 到 means to send, deliver, or convey. But together, 一到 suggests all these things in agreement, union cooperation, or in concert.

tuán jié

dan ketsu

단결

團結 / 糰結 means to join forces, unity, united, union, combination, cooperation or solidarity.

Regarding solidarity, this was part of the Chinese title used for the Solidarity Workers Union in Poland. In some circumstances, this can mean "hold a rally."

While there's not a perfect match to the English word "unity" in Chinese, this word is pretty close. It contains the idea of joining forces, and working as one. It could even mean to rally together to achieve a goal, or defeat a common enemy.
---

There are several variations of these characters such as 团结, 団結, 團結, 糰結, etc. Modern Japanese will write it 団結. Just the first Kanji varies. Click on the image of that modern Japanese first Kanji to the right if you want this version instead of the traditional one.
The following table may be helpful for those studying Chinese or Japanese...
Title
Characters
Romaji

(Romanized Japanese)

Various forms of Romanized Chinese
Working Together as One
Cooperation
同心協力

---

同心协力
tóng xīn xié lì

---

tong2 xin1 xie2 li4

---

tong xin xie li

---

tongxinxieli
t`ung hsin hsieh li

---

tunghsinhsiehli

---

tung hsin hsieh li
Cooperation
Collaboration
協作

---

协作
kyou saku / kyousaku / kyo saku / kyosaku
xié zuò / xie2 zuo4 / xie zuo / xiezuo
hsieh tso / hsiehtso
Cooperation
協力

---

协力
kyouryoku / kyoryoku
xié lì / xie2 li4 / xie li / xieli
hsieh li / hsiehli
Collaboration
Cooperation
Synergy
協同

---

协同
kyou dou / kyoudou / kyo do / kyodo
xié tóng / xie2 tong2 / xie tong / xietong
hsieh t`ung / hsiehtung / hsieh tung
Do not fear the task, cooperation will lead to success
不怕風浪大就怕槳不齊

---

不怕风浪大就怕桨不齐
bù pà fēng làng dà jiù pà jiǎng bù qí

---

bu4 pa4 feng1 lang4 da4 jiu4 pa4 jiang3 bu4 qi2

---

bu pa feng lang da jiu pa jiang bu qi
pu p`a feng lang ta chiu p`a chiang pu ch`i

---

pu pa feng lang ta chiu pa chiang pu chi
Flexibility
靈活性

---

灵活性
líng huó xìng

---

ling2 huo2 xing4

---

ling huo xing

---

linghuoxing
ling huo hsing

---

linghuohsing
Flexibility
柔軟性

---

柔软性
junansei
róu ruǎn xìng

---

rou2 ruan3 xing4

---

rou ruan xing

---

rouruanxing
jou juan hsing

---

joujuanhsing
Guide
Help
Cooperate
提携
tei kei / teikei
tí xié / ti2 xie2 / ti xie / tixie
t`i hsieh / tihsieh / ti hsieh
Energy Sword Body in Concert
気剣体一致 / 氣劍體一致

---

气剑体一致
ki ken tai icchi

---

kikentaiicchi

---

ki ken tai ichi

---

kikentaiichi
Synergy
Cooperative Interaction
協同作用

---

协同作用
kyou dou sa you

---

kyoudousayou

---

kyo do sa yo

---

kyodosayo
xié tóng zuò yòng

---

xie2 tong2 zuo4 yong4

---

xie tong zuo yong

---

xietongzuoyong
hsieh t`ung tso yung

---

hsiehtungtsoyung

---

hsieh tung tso yung
Unity
United
Solidarity
Cooperation
團結 / 糰結

---

团结 / 団结
dan ketsu / danketsu
tuán jié / tuan2 jie2 / tuan jie / tuanjie
t`uan chieh / tuanchieh / tuan chieh
Work Together with One Heart
齊心協力

---

齐心协力
qí xīn xié lì

---

qi2 xin1 xie2 li4

---

qi xin xie li

---

qixinxieli
ch`i hsin hsieh li

---

chihsinhsiehli

---

chi hsin hsieh li
In some entries above you will see that characters have different versions above and below a line.
In these cases, the characters above the line are Traditional Chinese, while the ones below are Simplified Chinese.