Custom Brevity Fewer Words Are Better Chinese & Japanese Calligraphy Wall Scroll
We have many options to create artwork with Brevity Fewer Words Are Better characters on a wall scroll or portrait.
If you want to create a cool Brevity tattoo, you can purchase that on our Chinese and Japanese Tattoo Image Service page and we'll help you select from many forms of ancient Asian symbols that express the idea of brevity.
---
---
Brevity: Fewer Words are Best

Getting to the point quickly with the fewest words possible is the suggestion of this 少說為佳 Chinese proverb.

But taking it more profound, there is a warning that using too many words may act to "tip your hat" or "show your hand" (to use two American idioms).

It can also be said that using many words does not make the message have more value.

This is really about the art of brevity.

My only hope is that I did not use too many words to explain this proverb.
Brief and to the Point
Speak simply, while expressing your idea completely

言簡意賅 is a Chinese proverb that suggests it is better to be brief and use fewer words while still expressing your main point or idea.

In another way to explain this, one should not use 100 words when 50 will do, or being more concise with your speech.

This can also be translated as concise, compendious, "brief in form but comprehensive in scope" or succinct.

This is a bit more positive than our other proverb for brevity.
Strength and Love in Unity

力愛不二 is a proverb that literally means:
"Strength [and] Love [are] Not Two [separate ideas/concepts/things]."

You'll find this proverb translated from Japanese to English as:
Love and strength are not separate.
Power and love are indivisible.
Strength and love in harmony.
Strength and love stand together.

Old Japanese grammar is quite different than English, and so this proverb says a lot within the brevity of just 4 characters. If you just read these characters directly as "Strength Love Not Two," you'd probably miss the real meaning.
---
According to the Swedish Shorinji Kempo Federation, this is the second characteristic of Shorinji Kempo.

This post really explains the concept best in my opinion: Bushido by MS: Riki Ai Fu Ni, which states: "Riki Ai Funi" is the philosophy that power (Riki) and love (Ai) are indivisible. More concretely, a person, who is powerful but does not have love, cannot control and misuse his/her power; on the other hand, a person, who has loved ones but is not powerful enough, cannot protect himself/herself nor loved ones.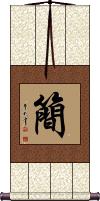 簡 expresses the idea of something simple or the essence of simplicity in life in Chinese.

This can also refer to a simple slip of bamboo for taking notes or writing a letter (especially in Korean Hanja).

Technically this is a word meaning simplicity and brevity in Japanese but it's rarely used in modern Japanese. Therefore, you should probably only select this character if your audience is Chinese.
The following table may be helpful for those studying Chinese or Japanese...
Title
Characters
Romaji

(Romanized Japanese)

Various forms of Romanized Chinese
Brevity: Fewer Words are Best
少說為佳

---

少说为佳
shǎo shuō wéi jiā

---

shao3 shuo1 wei2 jia1

---

shao shuo wei jia

---

shaoshuoweijia
shao shuo wei chia

---

shaoshuoweichia
Brief and to the Point
言簡意賅

---

言简意赅
yán jiǎn yì gāi

---

yan2 jian3 yi4 gai1

---

yan jian yi gai

---

yanjianyigai
yen chien i kai

---

yenchienikai
Brevity
Concise
簡約

---

简约
kanyaku
jiǎn yuē / jian3 yue1 / jian yue / jianyue
chien yüeh / chienyüeh
Morning Dew
朝露
asatsuyu
zhāo lù / zhao1 lu4 / zhao lu / zhaolu
chao lu / chaolu
Strength and Love in Unity
力愛不二

---

力爱不二
riki ai fu ni

---

rikiaifuni
Simplicity
簡

---

简
kan
jiǎn / jian3 / jian
chien
In some entries above you will see that characters have different versions above and below a line.
In these cases, the characters above the line are Traditional Chinese, while the ones below are Simplified Chinese.
All of our calligraphy wall scrolls are handmade.
When the calligrapher finishes creating your artwork, it is taken to my art mounting workshop in Beijing where a wall scroll is made by hand from a combination of silk, rice paper, and wood.
After we create your wall scroll, it takes at least two weeks for air mail delivery from Beijing to you.
Allow a few weeks for delivery. Rush service speeds it up by a week or two for $10!
When you select your calligraphy, you'll be taken to another page where you can choose various custom options.