Buy a wall scroll with August in Chinese or Japanese.
Learn how the name August is written in Chinese and Japanese. Decorate your home with a cool wall scroll that says August.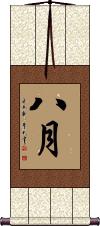 八月 is the month of August in Chinese, Japanese Kanji, and old Korean Hanja.

八月 literally mean "eighth month" or "eighth moon".

In Japanese, this can also be the female given name, Yatsuki, in much the same way August can be a female given name in English.

恐れ多い is a Japanese word for something awe-inspiring or awesome (in some odd context, it can refer to the month of August).

恐れ多い is probably not appropriate for a calligraphy wall scroll unless you have a specific reason.

The word awesome is misused a lot in English, or used too casually. This Japanese word is the real form of awesome, and kind of means numerous fears and anxiety that you would feel in response to encountering something truly awesome (such as God, a tornado, a tsunami, etc).
---
Note: Because this selection contains some special Japanese Hiragana characters, it should be written by a Japanese calligrapher.
The following table may be helpful for those studying Chinese or Japanese...
Title
Characters
Romaji

(Romanized Japanese)

Various forms of Romanized Chinese
August
アウグスト
augusuto
August
八月
hachigatsu / yatsuki
bā yuè / ba1 yue4 / ba yue / bayue
pa yüeh / payüeh
August
奧古斯特

---

奥古斯特
ào gǔ sī té

---

ao4 gu3 si1 te2

---

ao gu si te

---

aogusite
ao ku ssu t`e

---

aokussute

---

ao ku ssu te
Awesome
Awe-Inspiring
恐れ多い
osore ooi / osoreooi / osore oi
In some entries above you will see that characters have different versions above and below a line.
In these cases, the characters above the line are Traditional Chinese, while the ones below are Simplified Chinese.
All of our calligraphy wall scrolls are handmade.
When the calligrapher finishes creating your artwork, it is taken to my art mounting workshop in Beijing where a wall scroll is made by hand from a combination of silk, rice paper, and wood.
After we create your wall scroll, it takes at least two weeks for air mail delivery from Beijing to you.
Allow a few weeks for delivery. Rush service speeds it up by a week or two for $10!
When you select your calligraphy, you'll be taken to another page where you can choose various custom options.
Moon Names
A List of Full Moon Names that Include: Native American, Chinese, New Guinean ... August: Harvest Moon: March: Sleepy Moon: September: Chrysanthemum Moon...
China
Formal Name (English): People's Republic of China ISO Code: CN CHN 156 FIPS 10-4 Code: CH ... the PRC's claim to be a multiparty system. Steven Chapman, 16 August...
Chinese Astrology, 2011 year of the metal Rabbit, Chinese ...
... traditional Chinese Astrology, every year is assigned an animal name or moon sign of the Chinese ... July 23 to August 23 - Leo is the fifth sign of the zodiac, having a...
Chinese Conventional Place Names
... the process of revising the Chinese place names ... August 1998: Fu-ling shih (China) Fuling (Sichuan Shenf, China) July 1999 [No existing name authority record]
Sunday, August 24, 2008
One of the difficulties of Chinese ancient history is the unravelling of proper names; but, as with other difficulties, this one is owing rather to the novelty and...
Get a Chinese Name
Get your own Chinese name based on your English name. Provides a pronounciation guide and meaning of the name and your Chinese astrological sign.
COUNTRY PROFILE: CHINA
COUNTRY PROFILE: CHINA Click to Enlarge Image COUNTRY Formal Name: People's Republic of China ... Country Profile: China, August 2006 11 million), Miao (8.9 million), Uygur (8...
Kanji symbol for August
Free Japanese kanji symbol for 'August' designed specially for tattoo. Pick up from 1000+ words and phrases written in four font styles!
Free Japanese Kanji Symbol for August
Download the Japanese Kanji character for August for free.
The Symbol | Facebook
Disco 70' - 80' A Tribute to S... Park Village - Scauri (LT) Friday, August 13 at 10:00pm; The Symbol & Annarita in concerto Valogno (CE) Monday, August 9 at 9:30pm