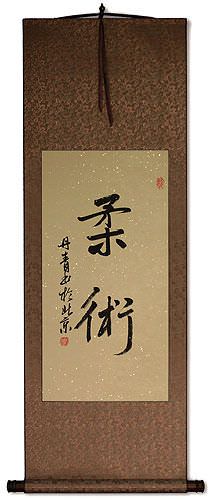 Approximate Measurements
Artwork Panel: 32.3cm x 63.5cm ≈ 12¾" x 25"
Silk/Brocade: 41.5cm x 118.5cm ≈ 16¼" x 46¾"
Width at Wooden Knobs: 50.5cm ≈ 19¾"


Jujitsu Wall Scroll
This word has been somewhat incorrectly spelled and pronounced "Jujitsu" for some time in the English-speaking world. The correct Japanese Romaji is jūjutsu or Juujutsu.

A little background on the word: By combining the Kanji pronounced "Ju" (which means flexible, pliable, gentle, yielding) with the Kanji pronounced "Jutsu" (which means art, or technique), we get a meaning that can be translated as "flexible technique", "gentle art" or "yielding technique".
This word does make sense in Chinese as well, although pronounced, "rou shu" in China.

The Jujutsu system has a history in Japan that started well-before the 1600's. Some see this style as a variation of the "Empty Hand Method" (Karate-do). Even the samurai of old used some Jujutsu methods in defending themselves with their unarmed hands against weapons that could pierce their heavy armor.

There are convoluted relationships between various schools and systems of martial arts, but it's generally accepted that Jujutsu led to the development of Judo and a few other variations.
---
See our Jujitsu page for more custom Japanese Kanji calligraphy options related to Jujitsu and Judo.
---
About the artist:
This calligraphy was created by Li Dan-Qing of Beijing. He's an older gentleman who has been involved with the art community of China, all of his life. Now in retirement, he creates calligraphy for us for sort of "hobby income".
---
About the materials and construction of this wall scroll:
The calligraphy was done using black Chinese ink on xuan paper (known incorrectly in the west as "rice paper"). The raw artwork was then taken to our Wall Scroll Workshop where it was laminated to more sheets of xuan paper, and built into a beautiful silk brocade wall scroll. Except for the use of a lathe to turn the wooden knobs, this wall scroll is virutally 100% handmade from start to finish (even the paper is made by hand).