Tenacity Indomitable in Chinese / Japanese...
Buy a Tenacity Indomitable calligraphy wall scroll here!
Personalize your custom "Tenacity Indomitable" project by clicking the button next to your favorite "Tenacity Indomitable" title below...
---
---
Indomitable Spirit / Indomitable Attitude
Fukutsu no Seishin

不撓不屈 is a Japanese and Korean word that means tenacity, indomitableness, or dauntlessness.



These two characters together mean "Tenacious", "Hard to Defeat", or "Dogged".

Alone, the first character means mischievous, obstinate or stubborn. But it loses some of the mischievous meaning when the second character is added.

The second character means strength, force, powerful or better.
---
See Also: Determination | Dedication | Devotion | Never Give Up
Indomitable / Persistence / Fortitude

不屈 is the short form of a longer Chinese word, and also a word used in Korean and Japanese to express the idea of being indomitable. It literally means, "will not bend", "will not crouch", "will not yield", "will not flinch", or "will not submit".

Note: Some will translate this as "indomitable spirit"; however, technically, there is no character to suggest the idea of "spirit" in this word.
---

不屈不撓 means "Indomitable" or "Unyielding".

不屈不撓 is a long word by Chinese standards. At least, it is often translated as a single word into English. It's actually a proverb in Chinese.

If you want to break it down, you can see that the first and third characters are the same. Both meaning "not" (they work as a suffix to make a negative or opposite meaning to whatever character follows).

The second character means "bendable".

The last means "scratched" or "bothered".

So this really means "Won't be bent, can't be bothered". I have also seen it written as "Will not crouch, will not submit". This comes from the fact that the second character can mean, "to crouch" and the last can mean "to submit" (as in "to give in" such as "submitting to the rule of someone else"). This may explain better why these four characters mean "indomitable".

Notes:
Some will translate this as "indomitable spirit"; however, technically, there is no character to suggest the idea of "spirit" in this word.
The first two characters can be a stand-alone word in Chinese.
In Japanese, this is considered to be two words (with very similar meanings).
The same characters are used in Korean, but the 2nd and 4th characters are swapped to create a word pronounced "불요불굴" in Korean.
Just let me know if you want the Korean version, which will also make sense in Japanese, and though not as natural, will also make sense in Chinese as well.
---
Undaunted After Repeated Setbacks
Persistence to overcome all challenges

This Chinese proverb means "Be undaunted in the face of repeated setbacks".

More directly-translated, it reads, "[Overcome] a hundred setbacks, without flinching". 百折不撓 is of Chinese origin but is commonly used in Japanese, and somewhat in Korean (same characters, different pronunciation).

This proverb comes from a long, and occasionally tragic story of a man that lived sometime around 25-220 AD. His name was Qiao Xuan and he never stooped to flattery but remained an upright person at all times. He fought to expose the corruption of higher-level government officials at great risk to himself.

Then when he was at a higher level in the Imperial Court, bandits were regularly capturing hostages and demanding ransoms. But when his own son was captured, he was so focused on his duty to the Emperor and the common good that he sent a platoon of soldiers to raid the bandits' hideout, and stop them once and for all even at the risk of his own son's life. While all of the bandits were arrested in the raid, they killed Qiao Xuan's son at first sight of the raiding soldiers.

Near the end of his career, a new Emperor came to power, and Qiao Xuan reported to him that one of his ministers was bullying the people and extorting money from them. The new Emperor refused to listen to Qiao Xuan and even promoted the corrupt Minister. Qiao Xuan was so disgusted that in protest he resigned his post as minister (something almost never done) and left for his home village.

His tombstone reads "Bai Zhe Bu Nao" which is now a proverb used in Chinese culture to describe a person of strength will who puts up stubborn resistance against great odds.

My Chinese-English dictionary defines these 4 characters as, "keep on fighting in spite of all setbacks", "be undaunted by repeated setbacks" and "be indomitable".

Our translator says it can mean, "never give up" in modern Chinese.

Although the first two characters are translated correctly as "repeated setbacks", the literal meaning is "100 setbacks" or "a rope that breaks 100 times". The last two characters can mean "do not yield" or "do not give up".
Most Chinese, Japanese, and Korean people will not take this absolutely literal meaning but will instead understand it as the title suggests above. If you want a single big word definition, it would be indefatigability, indomitableness, persistence, or unyielding.
---
See Also: Tenacity | Fortitude | Strength | Perseverance | Persistence
Never Give In / Never Succumb / Never Lose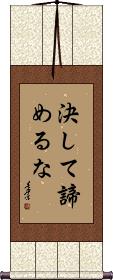 決して諦めるな is a Japanese term that informally means "never give up".

It's also a Japanese way to say "never surrender".
---
Note: Because this selection contains some special Japanese Hiragana characters, it should be written by a Japanese calligrapher.
---
See Also: Tenacity | Perseverance | Hope
The following table may be helpful for those studying Chinese or Japanese...
Title
Characters
Romaji

(Romanized Japanese)

Various forms of Romanized Chinese
Indomitable Spirit
Indomitable Attitude
不屈の精神
fu kutsu no sei shin

---

fukutsunoseishin
Tenacity
Indomitable
不撓不屈
fu tou fu kutsu

---

futoufukutsu

---

fu to fu kutsu
Tenacious
Tenacity
頑強

---

顽强
gan kyou / gankyou / gan kyo
wán qiáng

---

wan2 qiang2

---

wan qiang

---

wanqiang
wan ch`iang

---

wanchiang

---

wan chiang
Indomitable
Persistence
Fortitude
不屈
fukutsu
bù qū / bu4 qu1 / bu qu / buqu
pu ch`ü / puchü / pu chü
Indomitable
Unyielding
不屈不撓

---

不屈不挠
fukutsu futou

---

fukutsufutou

---

fukutsu futo
bù qū bù náo

---

bu4 qu1 bu4 nao2

---

bu qu bu nao

---

buqubunao
pu ch`ü pu nao

---

puchüpunao

---

pu chü pu nao
Undaunted After Repeated Setbacks
百折不撓

---

百折不挠
hyaku setsu su tou

---

hyakusetsusutou

---

hyaku setsu su to
bǎi zhé bù náo

---

bai3 zhe2 bu4 nao2

---

bai zhe bu nao

---

baizhebunao
pai che pu nao

---

paichepunao
Never Give In
Never Succumb
Never Lose
決して諦めるな
kesshite akirameruna

---

kesshiteakirameruna

---

keshite akirameruna
In some entries above you will see that characters have different versions above and below a line.
In these cases, the characters above the line are Traditional Chinese, while the ones below are Simplified Chinese.
Many custom options...




And formats...



Successful Chinese Character and Japanese Kanji calligraphy searches within the last few hours...
All of our calligraphy wall scrolls are handmade.
When the calligrapher finishes creating your artwork, it is taken to my art mounting workshop in Beijing where a wall scroll is made by hand from a combination of silk, rice paper, and wood.
After we create your wall scroll, it takes at least two weeks for air mail delivery from Beijing to you.
Allow a few weeks for delivery. Rush service speeds it up by a week or two for $10!
When you select your calligraphy, you'll be taken to another page where you can choose various custom options.
Check out my lists of Japanese Kanji Calligraphy Wall Scrolls and Old Korean Hanja Calligraphy Wall Scrolls.
Some people may refer to this entry as Tenacity Indomitable Kanji, Tenacity Indomitable Characters, Tenacity Indomitable in Mandarin Chinese, Tenacity Indomitable Characters, Tenacity Indomitable in Chinese Writing, Tenacity Indomitable in Japanese Writing, Tenacity Indomitable in Asian Writing, Tenacity Indomitable Ideograms, Chinese Tenacity Indomitable symbols, Tenacity Indomitable Hieroglyphics, Tenacity Indomitable Glyphs, Tenacity Indomitable in Chinese Letters, Tenacity Indomitable Hanzi, Tenacity Indomitable in Japanese Kanji, Tenacity Indomitable Pictograms, Tenacity Indomitable in the Chinese Written-Language, or Tenacity Indomitable in the Japanese Written-Language.
12 people have searched for Tenacity Indomitable in Chinese or Japanese in the past year.
Tenacity Indomitable was last searched for by someone else on May 1st, 2022