Did you mean: Hand ?
Hund in Chinese / Japanese...
Buy a Hund calligraphy wall scroll here!
Personalize your custom "Hund" project by clicking the button next to your favorite "Hund" title below...
Switched to secondary search mode due to lack of results using primary.
These secondary results may not be very accurate. Try a different but similar meaning word or phrase for better results. Or...
Look up Hund in my Japanese Kanji & Chinese Character Dictionary
My dictionary is a different system then the calligraphy search you just tried.
If you want a special phrase, word, title, name, or proverb, feel free to contact me, and I will translate your custom calligraphy idea for you.
---
---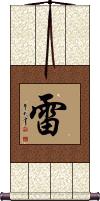 雷 can mean thunder, lightning, thunderbolt, mine (weapon), or slang for something terrifying or a fit of anger.

Some will say it is the symbol of the god of thunder or god of lightning.

雷 is also a Chinese surname that romanizes as Lei.

射手 means archer, shooter, or marksman in Chinese, Japanese Kanji, and old Korean Hanja.

Depending on context, it can also mean "goal getter" in Chinese. This would also be the word for bowman.

射手 is kind of modern in Asia, meaning that it's only been in use for a few hundred years. However, the more ancient version of archer is often not even recognized by the current generation of Chinese and Japanese people.

The first character means "shoot" or "fire" (in the context of a gun or bow). It's also a suffix for radioactive things (in the context of chemistry) - radioactive things "fire off" electrons. In Japanese, that first Kanji is a short name and suffix for archery.

The second character means "hand" but hand can also mean a person, in the same way, that "farmhand" is a person in English.

身土不二 (Shindofuni) is originally a Buddhist concept or proverb referring to the inseparability of body-mind and geographical circumstances.

身土不二 literally reads, "Body [and] earth [are] not two".

Other translations or matching ideas include:
Body and land are one.
Body and earth can not be separated.
Body earth sensory curation.
You are what you eat.
Indivisibility of the body and the land (because the body is made from food and food is made from the land).

Going further, this speaks of our human bodies and the land from which we get our food being closely connected. This phrase is used often when talking about natural and organic vegetables coming directly from the farm to provide the healthiest foods in Japan.

Character notes: 身(shin) in this context does not just mean your physical body rather a concept including both body and mind.
土 (do) refers to soil, earth, clay, land, or in some cases, locality. It's not the proper name of Earth, the planet. However, in can refer to the land or realm we live in.

Japanese note: This has been used in Japan, on and off since 1907 as a slogan for a governmental healthy eating campaign (usually pronounced as shindofuji instead of the original shindofuni in this context). It may have been hijacked from Buddhism for this propaganda purpose, but at least this is "healthy propaganda".

Korean note: The phrase 身土不二 was in use by 1610 A.D. in Korea where it can be found in an early medical journal.
In modern South Korea, it's written in Hangul as 신토불이. Korea used Chinese characters (same source for Japanese Kanji) as their only written standard form of the language until about a hundred years ago. Therefore, many Koreans will recognize 身土不二 as a native phrase and concept.
---
See Also: Strength and Love in Unity
You May Learn from Victory, You Will Learn from Failure
bǎi shèng nán lǜ dí sān zhé nǎi liáng yī

This Chinese proverb literally translates as: [Even a general who has won a] hundred victories [may be] hard put to see through the enemy's [strategy], [but one who has] broken [his] arm three [times] [will] be a good doctor.

Figuratively, this means: One cannot always depend on past successes to guarantee future success but one can always learn from lessons drawn from failure.
---
See Also: Failure - Mother of Success | Experience - Mother of Success | Fall Down 7 Times Get Up 8 | Hard Knocks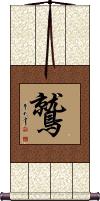 鷲 is the way to write black eagle, or condor in Chinese.

It means eagle (sometimes vulture) in Japanese Kanji. 鷲 hasn't been in common use in Korean for hundreds of years, so it's hard to say what bird it represented in old Korean Hanja.

There are other multi-character words which express different specific species of birds of prey (bald eagle, osprey, golden eagle, etc).
---
If you need a more specific title, just contact me.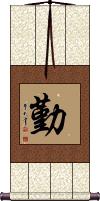 This single-character means diligence or "sense of duty" in Chinese and Korean (also understood in Japanese but not commonly-seen as a stand-alone Kanji).

As a single character on a wall scroll, this will only be seen with this meaning. However, it can also mean industrious, hardworking, frequent, regular, constant, energy, zeal, fortitude, or virility.

In Buddhism this can represent vīrya (viriya), the idea of energy, diligence, enthusiasm, or effort. It can be defined as an attitude of gladly engaging in wholesome activities, and it functions to cause one to accomplish wholesome or virtuous actions. Some Buddhists may even define this as "manliness" (a definition from a hundred years ago, before equality).

If you, or someone you know is a hard-worker (or needs a reminder to be diligent), then this is the wall scroll to have in your/their office.
---

馬球 is the Chinese title of the ancient game of polo.

During the Tang Dynasty (618-907 AD), the elite and rich would mount their horses and engage in this rigorous sport. It is the only sport of that period where women were also known to play.

The original polo came from Persia and may have been played in China hundreds of years before the Tang popularized it.

The characters "馬球" literally mean "horse ball".
Indomitable Spirit
Korean Only

This Korean proverb means "indomitable spirit", at least, that is the way it is commonly translated in martial arts circles (Taekwondo, Hapkido, etc.).

The literal translation is "[one] hundred [times] broken [still] don't succumb".
Or more naturally translated, "Even if attacked/beaten one hundred times, still be undaunted/indomitable".

Notes:
Some will say this is one long word rather than a proverb.
百折不屈 is also a proverb/word in Chinese though rarely used in modern times.
Inspire with redoubled courage
The following table may be helpful for those studying Chinese or Japanese...
Title
Characters
Romaji

(Romanized Japanese)

Various forms of Romanized Chinese
Thunder
雷
rai / kaminari
léi / lei2 / lei
God of Thunder
雷神
rai jin / raijin
léi shén / lei2 shen2 / lei shen / leishen
Archer
射手
i te / sha shu

---

ite / shashu
shè shǒu / she4 shou3 / she shou / sheshou
Body and Earth in Unity
身土不二
shindofuni / shindofuji
You May Learn from Victory, You Will Learn from Failure
百勝難慮敵三折乃良醫

---

百胜难虑敌三折乃良医
bǎi shèng nán lǜ dí sān zhé nǎi liáng yī

---

bai3 sheng4 nan2 lv4 di2 san1 zhe2 nai3 liang2 yi1

---

bai sheng nan lv di san zhe nai liang yi
pai sheng nan lü ti san che nai liang i
Black Eagle
Condor
鷲

---

鹫
washi
jiù / jiu4 / jiu
chiu
Diligence
勤
kin
qín / qin2 / qin
ch`in / chin
Polo
馬球

---

马球
mǎ qiú / ma3 qiu2 / ma qiu / maqiu
ma ch`iu / machiu / ma chiu
Indomitable Spirit
百折不屈
bǎi shé bù qū

---

bai3 she2 bu4 qu1

---

bai she bu qu

---

baishebuqu
pai she pu ch`ü

---

paishepuchü

---

pai she pu chü
Inspire with redoubled courage
勇気百倍
yuuki hyaku bai

---

yuukihyakubai

---

yuki hyaku bai

---

yukihyakubai
In some entries above you will see that characters have different versions above and below a line.
In these cases, the characters above the line are Traditional Chinese, while the ones below are Simplified Chinese.
Many custom options...




And formats...



Successful Chinese Character and Japanese Kanji calligraphy searches within the last few hours...
All of our calligraphy wall scrolls are handmade.
When the calligrapher finishes creating your artwork, it is taken to my art mounting workshop in Beijing where a wall scroll is made by hand from a combination of silk, rice paper, and wood.
After we create your wall scroll, it takes at least two weeks for air mail delivery from Beijing to you.
Allow a few weeks for delivery. Rush service speeds it up by a week or two for $10!
When you select your calligraphy, you'll be taken to another page where you can choose various custom options.
Check out my lists of Japanese Kanji Calligraphy Wall Scrolls and Old Korean Hanja Calligraphy Wall Scrolls.
Some people may refer to this entry as Hund Kanji, Hund Characters, Hund in Mandarin Chinese, Hund Characters, Hund in Chinese Writing, Hund in Japanese Writing, Hund in Asian Writing, Hund Ideograms, Chinese Hund symbols, Hund Hieroglyphics, Hund Glyphs, Hund in Chinese Letters, Hund Hanzi, Hund in Japanese Kanji, Hund Pictograms, Hund in the Chinese Written-Language, or Hund in the Japanese Written-Language.
5 people have searched for Hund in Chinese or Japanese in the past year.
Hund was last searched for by someone else on Oct 10th, 2021