God Korean in old Korean Hanja...
Buy a God Korean calligraphy wall scroll here!
Personalize your custom "God Korean" project by clicking the button next to your favorite "God Korean" title below...
See also: Selections of just old Korean Hanja Calligraphy
---
---
God of Zion / God of Abraham

上帝 is how Chinese Christians and Jews refer to God, AKA The Judeo-Christian God.

Yes, there are Chinese Jews whose ancestry dates back to Jewish traders on the silk road. They are known as the Kaifeng Jews. Most have left China for Israel now.

There are also plenty of Christians in China of both the Protestant and Catholic variety. However, the churches are basically run by the government, and the Chinese Catholic church does not recognize the Pope.

Oddly, in my experience, I found the Chinese Protestant church to be much less political compared to Baptist and other Protestant churches that I have visited in America.

上帝 is also the typically-used title for God in Japanese.

While you may find this term in old Korean dictionaries, it is an obscure, and rarely-used title for God in modern Korean.
---
See Also: Christianity | Jesus Christ
God Bless You / May God Protect You

上帝保佑 is a blessing exchanged between Chinese Christians.

The first two characters literally mean God (The God of Zion). The second two characters express the idea of giving protection. Another way to translate this is "May God protect you".
---
See Also: Guardian Angel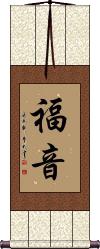 福音 is the Chinese, Korean and Japanese word for "Gospel" or "Word of God".

福音 is a specifically Christian word in Asia (not used for any other religion).

The first character means "blessing", "good fortune" or "good luck". This first character is a special character used throughout China to bring good tidings and fortune - especially during Chinese New Year. The second character means "sound", "noise" or "news".

Together, these characters create a word that means "The Good News" or "The Sound of Good Fortune".

When read by a Chinese or Japanese person, this word is always perceived as "The Christian Gospel", "Word of God", or even "The Voice of God".
---
See Also: Christianity | Jesus Christ | God of Abraham
Heaven Blesses the Diligent

This can be interpreted a few different ways:
God blesses those who work hard.
It is the way of Heaven to smile on the diligent.
God will reward those that are worthy.
Heaven blesses those who are diligent.

Whichever translation you like, a scroll like this on your wall may serve as a reminder to work hard because your diligence will pay off both in this life and the next.


Note: This can be pronounced in Korean, but it's not a commonly used term.
Xuan Wu / Genbu / Black Tortoise God

This can refer to the Black Tortoise (an ancient Chinese constellation of stars- part of the seven mansions of the north sky).

In Daoism, this is the God of the North sky.

This also refers to a Black Tortoise god, said to rule over the northern heavens in Japanese. Can also be pronounced/romanized as genmu or when used as a personal name, Hirotake in Japanese.
God in the Glorious Center of Heaven
tiān zhī yù zhōng zhǔ shén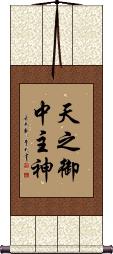 天之御中主神 is a phrase that was submitted by a customer.

I do not have information on the origin of this phrase.
Religious Devotion / Faith in God / Religious Faith

信仰 means firm belief, faith, persuasion, conviction, and sometimes religion or creed in Chinese, Japanese Kanji and old Korean Hanja.

信仰 clearly fits religious connotation of the English word "devotion".

信仰 is often used to refer to a person of faith or a religious person.

This can be directly translated as "firm belief", "creed", "conviction" or simply as "religious" depending on context.

Some will also use this to mean "trust in God" in Japanese (though the term for God is not actually in this title).

It should be noted that this word is a little strange alone on a wall scroll.
---
While this can be pronounced in Japanese, it's not a great selection for a wall scroll if your audience is Japanese.
---
See Also: Faith | Trust | Devotion | Trust | Trust in God

神兵 is a Japanese, Chinese, and Korean title that means "soldier dispatched by a god", or "soldier under the protection of the gods".

神兵 is used more in Japanese (especially in animation) than the other languages.
I've noticed you are searching for "god korean". If you are interested, I can have your favorite verse from the Torah or Bible translated into Chinese and written on a wall scroll for you. Please contact me siting the verse or verses you want. Here is an example: Joshua 24:15.
If you are looking for a Jewish or Christian title, phrase, or word, I have a great selection here: Christian Words in Chinese
This in-stock artwork might be what you are looking for, and ships right away...
The following table may be helpful for those studying Chinese or Japanese...
Title
Characters
Romaji

(Romanized Japanese)

Various forms of Romanized Chinese
God is my Judge
上帝是我的法官
shàng dì shì wǒ de fǎ guān

---

shang4 di4 shi4 wo3 de fa3 guan1

---

shang di shi wo de fa guan

---

shangdishiwodefaguan
shang ti shih wo te fa kuan

---

shangtishihwotefakuan
God of Zion
God of Abraham
上帝
joutei / jotei
shàng dì / shang4 di4 / shang di / shangdi
shang ti / shangti
God Bless You
May God Protect You
上帝保佑
shàng dì bǎo yòu

---

shang4 di4 bao3 you4

---

shang di bao you

---

shangdibaoyou
shang ti pao yu

---

shangtipaoyu
Word of God
The Gospel
福音
fukuin
fú yīn / fu2 yin1 / fu yin / fuyin
Heaven Blesses the Diligent
天道酬勤
tiān dào chóu qín

---

tian1 dao4 chou2 qin2

---

tian dao chou qin

---

tiandaochouqin
t`ien tao ch`ou ch`in

---

tientaochouchin

---

tien tao chou chin
Xuan Wu
Genbu
Black Tortoise God
玄武
genbu
xuán wǔ / xuan2 wu3 / xuan wu / xuanwu
hsüan wu / hsüanwu
God in the Glorious Center of Heaven
天之御中主神
tiān zhī yù zhōng zhǔ shén

---

tian1 zhi1 yu4 zhong1 zhu3 shen2

---

tian zhi yu zhong zhu shen

---

tianzhiyuzhongzhushen
t`ien chih yü chung chu shen

---

tienchihyüchungchushen

---

tien chih yü chung chu shen
Religious Devotion
Faith in God
Religious Faith
信仰
shin kou / shinkou / shin ko
xìn yǎng / xin4 yang3 / xin yang / xinyang
hsin yang / hsinyang
Soldier of the Gods
神兵
shin pei / shinpei
shén bīng

---

shen2 bing1

---

shen bing

---

shenbing
shen ping

---

shenping
Many custom options...




And formats...



Successful Chinese Character and Japanese Kanji calligraphy searches within the last few hours...
All of our calligraphy wall scrolls are handmade.
When the calligrapher finishes creating your artwork, it is taken to my art mounting workshop in Beijing where a wall scroll is made by hand from a combination of silk, rice paper, and wood.
After we create your wall scroll, it takes at least two weeks for air mail delivery from Beijing to you.
Allow a few weeks for delivery. Rush service speeds it up by a week or two for $10!
When you select your calligraphy, you'll be taken to another page where you can choose various custom options.
Check out my lists of Japanese Kanji Calligraphy Wall Scrolls and Old Korean Hanja Calligraphy Wall Scrolls.
Some people may refer to this entry as God Korean Kanji, God Korean Characters, God Korean in Mandarin Chinese, God Korean Characters, God Korean in Chinese Writing, God Korean in Japanese Writing, God Korean in Asian Writing, God Korean Ideograms, Chinese God Korean symbols, God Korean Hieroglyphics, God Korean Glyphs, God Korean in Chinese Letters, God Korean Hanzi, God Korean in Japanese Kanji, God Korean Pictograms, God Korean in the Chinese Written-Language, or God Korean in the Japanese Written-Language.
3 people have searched for God Korean in Chinese or Japanese in the past year.
God Korean was last searched for by someone else on Apr 24th, 2022