Not what you want?
Try other similar-meaning words, fewer words, or just one word.


First Principles in Chinese / Japanese...
Buy a First Principles calligraphy wall scroll here!
Personalize your custom "First Principles" project by clicking the button next to your favorite "First Principles" title below...
Ethics / Ethical / Morality

This Chinese, Japanese, and old Korean word can also be defined as "moral principles", morality, ethics, ethical, morals, or virtue.

The first character is the same that is associated with Daoism / Taoism. 道德 is also used to express morality, virtue, or simply morals.
---

There is a slight deviation in the Japanese Kanji form. If you want the modern Japanese version, please click on the special Kanji shown to the right instead of the button above. Note that the traditional Chinese form is still readable and understood by Japanese people.
---

貞烈 is the Japanese Kanji for, "Extreme Faithfulness".

The first Kanji means "firm adherence to one's principles", chastity (of a woman), chaste, etc.

The second Kanji means ardent, intense, fierce, stern, upright, to give one's life for a noble cause, exploits, achievements, virtuous, and in some contexts, heroic.

Now you get the idea why this refers to someone who is extremely faithful (to a cause, themselves, their religious beliefs, or their philosophy.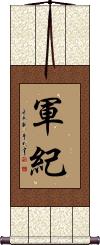 軍紀 means military discipline or military principles.

If maintaining your military discipline is important to you personally, or important to your military unit, this is the wall scroll to have up behind your desk. In fact, it's the kind of thing I expect to see behind the desk of a First Sergeant or maybe a hardcore NCO.

Note: In some rare context, it could be extended to mean "morale" but "discipline" is much closer to the commonly-held definition.

Note: This term is not well-known outside of the military services in Asia (not used by the common person).
---
See Also: Self-Discipline
Art of War: 5 Points of Analysis

The first chapter of Sun Tzu's Art of War lists five key points to analyzing your situation.

It reads like a 5-part military proverb. Sun Tzu says that to sharpen your skills, you must plan. To plan well, you must know your situation. Therefore, you must consider and discuss the following:

1. Philosophy and Politics: Make sure your way or your policy is agreeable among all of your troops (and the citizens of your kingdom as well). For when your soldiers believe in you and your way, they will follow you to their deaths without hesitation, and will not question your orders.

2. Heaven/Sky: Consider climate / weather. This can also mean to consider whether God is smiling on you. In the modern military, this could be waiting for clear skies so that you can have air support for an amphibious landing.

3. Ground/Earth: Consider the terrain in which the battle will take place. This includes analyzing defensible positions, exit routes, and using varying elevation to your advantage. When you plan an ambush, you must know your terrain, and the best location from which to stage that ambush. This knowledge will also help you avoid being ambushed, as you will know where the likely places in which to expect an ambush from your enemy.

4. Leadership: This applies to you as the general, and also to your lieutenants. A leader should be smart and be able to develop good strategies. Leaders should keep their word, and if they break a promise, they should punish themselves as harshly as they would punish subordinates. Leaders should be benevolent to their troops, with almost a fatherly love for them. Leaders must have the ability to make brave and fast decisions. Leaders must have steadfast principles.

5. [Military] Methods: This can also mean laws, rules, principles, model, or system. You must have an efficient organization in place to manage both your troops and supplies. In the modern military, this would be a combination of how your unit is organized, and your SOP (Standard Operating Procedure).
---
Notes: This is a simplistic translation and explanation. Much more is suggested in the actual text of the Art of War (Bing Fa). It would take a lot of study to master all of these aspects. In fact, these five characters can be compared to the modern military acronyms such as BAMCIS or SMEAC.

CJK notes: I have included the Japanese and Korean pronunciations but in Chinese, Korean and Japanese, this does not make a typical phrase (with subject, verb, and object) it is a list that only someone familiar with Sun Tzu's writings would understand.
Kenpo / Kempo / Quan Fa / Chuan Fa

This form of martial arts can be translated in several ways. Some will call it "fist principles" or "the way of the fist", or even "law of the fist". The first character literally means fist. The second can mean law, method, way, principle or Buddhist teaching.

Kempo is really a potluck of martial arts. Often a combination of Chinese martial arts such as Shaolin Kung Fu with Japanese martial arts such as Karate, Jujutsu (Jujitsu), Aikido, and others. You may see the term "Kempo Karate" which basically means Karate with other disciplines added. In this way, Kempo becomes an adjective rather than a title or school of martial arts.

These facts will long be argued by various masters and students of Kempo. Even the argument as to whether it should be spelled "kenpo" or "Kempo" ensues at dojos around the world (the correct Romaji should actually be "kenpou" if you precisely follow the rules).

The benefit of Kempo is that the techniques are easier to learn and master compared to pure Kung Fu (wu shu). Students are often taught basic Karate moves, kicks, and punches before augmenting the basic skills with complex Kung Fu techniques. This allows students of Kempo achieve a level where they can defend themselves or fight in a relatively short amount of time (a few years rather than a decade or more).

Because the definition of this word is so fluid, I should make some notes here:

1. Purists in Okinawa will claim that "Okinawa Kenpo" or "Ryukyu Hon Kenpo" is the original and true version of this martial art from the old kingdom. There is actually little or no connection between Okinawa Kenpo and the way the word is used elsewhere.

2. In Chinese, where these characters are pronounced "quan fa" (sometimes Romanized as "chuan fa" because the Chinese-pinyin "q" actually sounds like an English "ch" sound), these characters do not hold the connotation of being a mixed martial art. It is simply defined as "the law of the fist".

3. In my Japanese dictionary, it oddly defines Kenpo as "Chinese art of self-defense". I personally don't feel this is the most common way that people perceive the word but just something you should know.
This in-stock artwork might be what you are looking for, and ships right away...
Gallery Price: $200.00
Your Price: $79.88
Gallery Price: $220.00
Your Price: $99.88
Gallery Price: $72.00
Your Price: $39.88
The following table may be helpful for those studying Chinese or Japanese...
Title
Characters
Romaji

(Romanized Japanese)

Various forms of Romanized Chinese
Ethics
Ethical
Morality
道德

---

道德 / 道徳
dou toku / doutoku / do toku / dotoku
dào dé / dao4 de2 / dao de / daode
tao te / taote
Extreme Faithfulness
貞烈
tei retsu / teiretsu
Military Discipline
軍紀

---

军纪
gun ki / gunki
jūn jì / jun1 ji4 / jun ji / junji
chün chi / chünchi
Art of War: 5 Points of Analysis
道天地將法

---

道天地将法
dou ten chi shou hou

---

doutenchishouhou

---

do ten chi sho ho

---

dotenchishoho
dào tiān dì jiàng fǎ

---

dao4 tian1 di4 jiang4 fa3

---

dao tian di jiang fa

---

daotiandijiangfa
tao t`ien ti chiang fa

---

taotientichiangfa

---

tao tien ti chiang fa
Kenpo
Kempo
Quan Fa
Chuan Fa
拳法
kenpou / kenpo
quán fǎ / quan2 fa3 / quan fa / quanfa
ch`üan fa / chüanfa / chüan fa
In some entries above you will see that characters have different versions above and below a line.
In these cases, the characters above the line are Traditional Chinese, while the ones below are Simplified Chinese.
Not the results for first principles that you were looking for?
Below are some entries from our dictionary that may match your first principles search...
Characters

If shown, 2nd row is Simp. Chinese

Pronunciation
Romanization
Simple Dictionary Definition

側

---

侧

see styles
zhāi
zhai1

---

chai

---

soku
そく

---

(See 永字八法) first principle of the Eight Principles of Yong; tiny dash or speck; (surname) Soba

---

lean to one side

端

see styles
duān
duan1

---

tuan

---

hashi(p); haji; hana
はし(P); はじ; はな

---

(1) end (e.g. of street); tip; point; edge; margin; (2) beginning; start; first; (3) odds and ends; scrap; odd bit; least; (female given name) Mizuki

---

Beginning, coming forth, elementary principles; a point either beginning or end; straight, proper; starting point

五法

see styles
wǔ fǎ
wu3 fa3

---

wu fa

---

gohō

圓教

---

圆教

see styles
yuán jiào
yuan2 jiao4

---

yüan chiao

---

engyō

起信論

---

起信论

see styles
qǐ xìn lùn
qi3 xin4 lun4

---

ch`i hsin lun
chi hsin lun

---

Kishinron

五種唯識

---

五种唯识

see styles
wǔ zhǒng wéi shì
wu3 zhong3 wei2 shi4

---

wu chung wei shih

---

goshu yuishiki

民族主義

---

民族主义

see styles
mín zú zhǔ yì
min2 zu2 zhu3 yi4

---

min tsu chu i

---

minzokushugi
みんぞくしゅぎ

---

nationalism

中道第一義

---

中道第一义

see styles
zhōng dào dì yī yì
zhong1 dao4 di4 yi1 yi4

---

chung tao ti i i

---

chūdō daiichi gi
Many custom options...




And formats...



Successful Chinese Character and Japanese Kanji calligraphy searches within the last few hours...
All of our calligraphy wall scrolls are handmade.
When the calligrapher finishes creating your artwork, it is taken to my art mounting workshop in Beijing where a wall scroll is made by hand from a combination of silk, rice paper, and wood.
After we create your wall scroll, it takes at least two weeks for air mail delivery from Beijing to you.
Allow a few weeks for delivery. Rush service speeds it up by a week or two for $10!
When you select your calligraphy, you'll be taken to another page where you can choose various custom options.
Check out my lists of Japanese Kanji Calligraphy Wall Scrolls and Old Korean Hanja Calligraphy Wall Scrolls.
Some people may refer to this entry as First Principles Kanji, First Principles Characters, First Principles in Mandarin Chinese, First Principles Characters, First Principles in Chinese Writing, First Principles in Japanese Writing, First Principles in Asian Writing, First Principles Ideograms, Chinese First Principles symbols, First Principles Hieroglyphics, First Principles Glyphs, First Principles in Chinese Letters, First Principles Hanzi, First Principles in Japanese Kanji, First Principles Pictograms, First Principles in the Chinese Written-Language, or First Principles in the Japanese Written-Language.
5 people have searched for First Principles in Chinese or Japanese in the past year.
First Principles was last searched for by someone else on Oct 10th, 2021