Courteous in Chinese / Japanese...
Buy a Courteous calligraphy wall scroll here!
Personalize your custom "Courteous" project by clicking the button next to your favorite "Courteous" title below...
---
---
Respect
Politeness, Gratitude and Propriety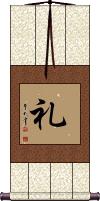 We show respect by speaking and acting with courtesy. We treat others with dignity and honor the rules of our family, school, and nation. Respect yourself, and others will respect you.

礼 is also one of the five tenets of Confucius.

礼, beyond respect, can also be translated as propriety, good manners, politeness, rite, worship or an expression of gratitude.



Please note that Japanese use this simplified 礼 version of the original 禮 character for respect. 礼 also happens to be the same simplification used in mainland China. While 禮 is the traditional and original version, 礼 has been used as a shorthand version for many centuries. Click on the big 禮 character to the right if you want the Traditional Chinese and older Japanese version.
---
This is also a virtue of the Samurai Warrior
See our page with just Code of the Samurai / Bushido here
---
See Also: Confucius

In Chinese, old Korean Hanja, and old Japanese Kanji, this word means "etiquette" or "courtesy".

You'll also find a Japanese entry on our website which uses a modern/simplified first Kanji. The characters shown here compose the best choice if your audience is Chinese or Korean - but also acceptable if you want an ancient-style Japanese scroll.

Note: This can also be translated as propriety, decorum, or formality.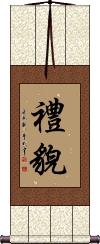 禮貌 is a Chinese and old Korean word that means courtesy or politeness.

Courtesy is being polite and having good manners. When you speak and act courteously, you give others a feeling of being valued and respected. Greet people pleasantly. Bring courtesy home. Your family needs it most of all. Courtesy helps life to go smoothly.
---
If you put the words "fēi cháng bù" in front of this, it is like adding "very much not." it's a great insult in China, as nobody wants to be called "extremely discourteous" or "very much impolite."
---

好意 is how to write good intentions in Chinese, Japanese, and old Korean Hanja.

This can also be translated as: kindness; good will; favor; favour; courtesy; good wishes; friendliness; amity.
Love and Respect / Kindness and Respect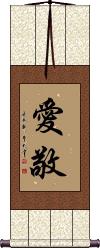 This Chinese, Japanese Kanji, and old Korean Hanja title can mean, "love and respect", "kindness and respect", "to love with reverence", "charm", "amiability", "winsomeness", "courtesy", or "ingratiating behavior".
---
Note: The wide-ranging definitions show that this word is a bit ambiguous without the context of being used in a sentence.
Sensei / Master / Teacher / Mister

先生 is sensei, which is associated in the west with a master or instructor of karate, aikido, judo, and other Japanese martial arts.

In reality, this is a term of respect for almost any professional or skilled person (doctor, lawyer, teacher, etc). In some cases, it is used for musicians and artists who have achieved a certain level of fame, skill, or accomplishment.

It should be noted that this is also a courtesy title in Chinese but more like calling someone "mister" or "gentleman". It doesn't really have the "master" or "teacher" meaning in Chinese - see our Chinese "Master / Sifu / Shi Fu" entry if your audience is Chinese.

In Korean Hanja, this means teacher, instructor, schoolmaster, or schoolmistress.
This entry is more for educational purposes. 先生 is kind of a strange thing to put on a wall scroll. It's a title that is used more orally to show respect, rather than something written in calligraphy. If you feel that it is appropriate in your circumstances, we are very willing to create a piece of sensei Japanese calligraphy artwork for you.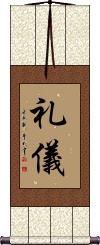 In Japanese, this word means "manners", "courtesy" or "etiquette".

This also clearly means etiquette in Chinese, though the first Japanese Kanji has been "modernized" and happens to be the same as the modern Simplified Chinese version. Therefore, this word will be understood by both Japanese and Chinese people but best if your audience is mostly Japanese (Chinese people would generally prefer the ancient Traditional Chinese version).
---
The Five Tenets of Confucius
The Five Cardinal Rules / Virtues of Confucius

仁義禮智信 are the core of Confucius philosophy.

Simply stated:
仁 = Benevolence / Charity
義 = Justice / Rectitude
禮 = Courtesy / Politeness / Tact
智 = Wisdom / Knowledge
信 = Fidelity / Trust / Sincerity

Many of these concepts can be found in various religious teachings. Though it should be clearly understood that Confucianism is not a religion but should instead be considered a moral code for a proper and civilized society.

This title is also labeled, "5 Confucian virtues".
---

If you order this from the Japanese calligrapher, expect the middle Kanji to be written in a more simple form (as seen to the right). This can also be romanized as "jin gi rei satoshi shin" in Japanese. Not all Japanese will recognize this as Confucian tenets but they will know all the meanings of the characters.
---
See Also: Confucius Teachings | Ethics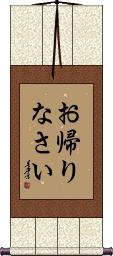 This is a common Japanese way to say, "welcome home".

This is said by a person greeting another as they return home. It's a typical phrase that is almost said by reflex as part of Japanese courtesy or etiquette.

Sometimes written as 御帰りなさい (just first character is Kanji instead of Hiragana).
---
Note: Because this selection contains some special Japanese Hiragana characters, it should be written by a Japanese calligrapher.
Taekwondo Tenets / Spirit of Taekwon-do
tái quán dào jīng shén lǐ yì lián chǐ rěn nài kè jǐ bǎi zhé bù qū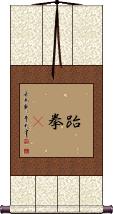 跆拳道精神禮義廉耻忍耐克己百折不屈 is General Choi's writing that is often called "The Tenets of Taekwon-do".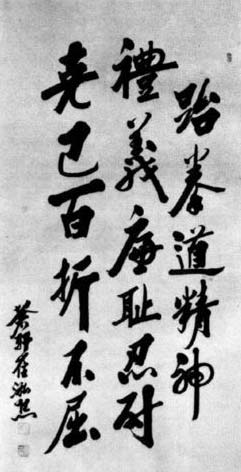 The actual title would be translated as, "Taekwondo Spirit" or "The Spirit of Taekwondo". It was originally written in Korean Hanja (Chinese characters used in Korea for about 1600 years).
General Choi's original calligraphy is shown to the right. Your custom calligraphy will be unique, and not an exact match, as each calligrapher has their own style.
In modern times, the common form of written Korean is Hangul (a phonetic character set). The table below shows the text in Hangul and Hanja along with a pronunciation guide and a brief English translation:
Traditional Korean Hanja
Modern Korean Hangul
Pronunciation
English
跆拳道精神
태권도정신
tae gweon do jeong sin
Taekwondo Spirit
禮儀
예의
ye yi
Courtesy / Etiquette / Propriety / Decorum / Formality
廉耻
염치
yeom ci
Integrity / Sense of Honor
忍耐
인내
in nae
Patience / Perseverance / Endurance
克己
극기
geug gi
Self-Control / Self-Denial / Self-Abnegation
百折不屈
백절불굴
baeg jeor bur gur
Indomitable Spirit (Undaunted even after repeated attacks from the opponent)
Note that the pronunciation is the official version now used in South Korea. However, it is different than what you may be used to. For instance, "Taekwon-do" is "tae gweon do". This new romanization is supposed to be closer to actual Korean pronunciation.
The following table may be helpful for those studying Chinese or Japanese...
Title
Characters
Romaji

(Romanized Japanese)

Various forms of Romanized Chinese
Respect
禮

---

礼
rei
lǐ / li3 / li
Courtesy
Etiquette
禮儀

---

礼仪
lǐ yì / li3 yi4 / li yi / liyi
li i / lii
Courtesy
Politeness
禮貌

---

礼貌
lǐ mào / li3 mao4 / li mao / limao
Good Intentions
好意
kou i / koui / ko i / koi
hǎo yì / hao3 yi4 / hao yi / haoyi
hao i / haoi
Love and Respect
Kindness and Respect
愛敬

---

爱敬
aikei / aikyou

---

aikei / aikyo

---

aikei / aikyo
ài jìng / ai4 jing4 / ai jing / aijing
ai ching / aiching
Sensei
Master
Teacher
Mister
先生
sen sei / sensei
xiān shēng

---

xian1 sheng1

---

xian sheng

---

xiansheng
hsien sheng

---

hsiensheng
Courtesy
Etiquette
礼儀 / 禮儀

---

礼仪
rei gi / reigi
lǐ yì / li3 yi4 / li yi / liyi
li i / lii
The Five Tenets of Confucius
仁義禮智信

---

仁义礼智信
jin gi rei tomo nobu

---

jingireitomonobu
rén yì lǐ zhì xìn

---

ren2 yi4 li3 zhi4 xin4

---

ren yi li zhi xin

---

renyilizhixin
jen i li chih hsin

---

jenilichihhsin
Welcome Home
お帰りなさい
okaerinasai
Taekwondo Tenets
Spirit of Taekwon-do
跆拳道精神禮義廉耻忍耐克己百折不屈

---

跆拳道精神礼义廉耻忍耐克己百折不屈
tái quán dào jīng shén lǐ yì lián chǐ rěn nài kè jǐ bǎi zhé bù qū

---

tai2 quan2 dao4 jing1 shen2 li3 yi4 lian2 chi3 ren3 nai4 ke4 ji3 bai3 zhe2 bu4 qu1

---

tai quan dao jing shen li yi lian chi ren nai ke ji bai zhe bu qu
t`ai ch`üan tao ching shen li i lien ch`ih jen nai k`o chi pai che pu ch`ü

---

tai chüan tao ching shen li i lien chih jen nai ko chi pai che pu chü
In some entries above you will see that characters have different versions above and below a line.
In these cases, the characters above the line are Traditional Chinese, while the ones below are Simplified Chinese.
Many custom options...




And formats...



Successful Chinese Character and Japanese Kanji calligraphy searches within the last few hours...
All of our calligraphy wall scrolls are handmade.
When the calligrapher finishes creating your artwork, it is taken to my art mounting workshop in Beijing where a wall scroll is made by hand from a combination of silk, rice paper, and wood.
After we create your wall scroll, it takes at least two weeks for air mail delivery from Beijing to you.
Allow a few weeks for delivery. Rush service speeds it up by a week or two for $10!
When you select your calligraphy, you'll be taken to another page where you can choose various custom options.
Check out my lists of Japanese Kanji Calligraphy Wall Scrolls and Old Korean Hanja Calligraphy Wall Scrolls.
Some people may refer to this entry as Courteous Kanji, Courteous Characters, Courteous in Mandarin Chinese, Courteous Characters, Courteous in Chinese Writing, Courteous in Japanese Writing, Courteous in Asian Writing, Courteous Ideograms, Chinese Courteous symbols, Courteous Hieroglyphics, Courteous Glyphs, Courteous in Chinese Letters, Courteous Hanzi, Courteous in Japanese Kanji, Courteous Pictograms, Courteous in the Chinese Written-Language, or Courteous in the Japanese Written-Language.
11 people have searched for Courteous in Chinese or Japanese in the past year.
Courteous was last searched for by someone else on Oct 10th, 2021