Not what you want?
Try searching again using:
1. Other similar-meaning words.
2. Fewer words or just one word.
Confident in Chinese / Japanese...
Buy a Confident calligraphy wall scroll here!
Start your custom "Confident" project by clicking the button next to your favorite "Confident" title below...

bǎ tuò de bù huāng chéng chuán de wěn dang

This Chinese proverb literally translates as: [If the] helmsman is not nervous, the passengers [will feel] secure.

Figuratively, this means: If the leader appears confident, his/her followers will gain confidence also.

This is a great suggestion that a confident leader inspires confidence in his/her troops or followers. Of course, a nervous leader will create fear in troops or followers.

zì xìn

jishin

자신

自信 is created by simply putting the character for "faith/believe/confidence" with the character for "oneself" in front of it.

The literal translation holds the same meaning in English, Chinese and Japanese.

It's like a self-affirmation to say, "you can do it."

Some may also use this to mean self-esteem or a sense of self-worth. 自信 is also how to say, "believe in oneself."
---
See Also: Confidence

zì xìn xīn

자신심

自信心 is the long title for self-confidence. It differs from the other version, only with the addition of the character for heart or soul at the end. With that addition, you could say this means self-confident heart.
---
See Also: Confidence

xìn lài

shinrai

신뢰

Trust is having faith in someone or something. It is a positive attitude about life. You are confident that the right thing will happen without trying to control it or make it happen. Even when difficult things happen, trust helps us to find the gift or lesson in it.

信賴 can also be translated as confidence, reliance, or dependence; thus it can also mean "to rely on" or "to depend on."
---

There is a slight deviation in the Japanese Kanji form of the second character. If you want the modern Japanese version, please click on the special Kanji shown to the right instead of the button above. Note that the traditional Chinese form is still readable and understood by Japanese people.
---
See Also: Confidence | Truth | Honor

xìn xīn

shin jin

신심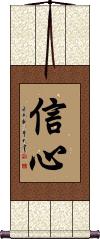 信心 is a Chinese, Japanese, and Korean word that means confidence, faith, or belief in somebody or something.

The first character means faith, and the second can mean heart or soul. Therefore, you could say this means "faithful heart" or "faithful soul."

In Korean especially, this word has a religious connotation.

In old Japanese Buddhist context, this was a word for citta-prasāda (clear or pure heart-mind).
In modern Japan (when read by non-Buddhists), this word is usually understood as, "faith," "belief" or "devotion."
---
See Also: Self-Confidence

xiàn shēn

ken shin

헌신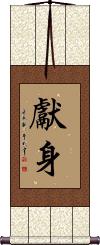 獻身 is used to describe being so devoted to something that you will make sacrifices for that goal/thing/person. You can also translate this word as any of the following:
Give one's life for...
Sacrifice one's life for...
To dedicate oneself to...
Self-devotion
Dedication

Commit ones energy to...
Devote to...
Self-sacrifice
Giving your whole body to...

This can be a dedication to or for someone but more often is used in reference to a dedication or making sacrifices for your country, public service, or a cause. For instance, an Olympic athlete makes great sacrifices to train in his/her sport for their country and compatriots.
---


While the form shown to the upper-left is considered an ancient Japanese version, in modern Japan, they use the simplified version of the first Kanji (shown to the right). Click on the Kanji at the right instead of the button above if you want this modern Japanese version.

If you are looking for a more religious meaning of devotion, see Faith.
---
See Also: Confidence | Dedication

zì shì

자시

自恃 means self-reliance but is often used to mean self-confidence or the state of being self-assured.

Basically this means you can rely on yourself (with a slight suggestion that others can rely on you as well).

The first character means "oneself" while the second means "to rely upon."
---
See Also: Confidence | Self-Confidence
Search for Confident in my Japanese & Chinese Dictionary
The following table may be helpful for those studying Chinese or Japanese...
Title
Characters
Romaji

(Romanized Japanese)

Various forms of Romanized Chinese
The Confident Helmsman
Inspires Confidence in the Passengers
把舵的不慌乘船的穩當

---

把舵的不慌乘船的稳当
bǎ tuò de bù huāng chéng chuán de wěn dang

---

ba3 tuo4 de bu4 huang1 cheng2 chuan2 de wen3 dang

---

ba tuo de bu huang cheng chuan de wen dang
pa t`o te pu huang ch`eng ch`uan te wen tang

---

pa to te pu huang cheng chuan te wen tang
Self-Confidence
自信
jishin
zì xìn / zi4 xin4 / zi xin / zixin
tzu hsin / tzuhsin
Self-Confidence
自信心
zì xìn xīn

---

zi4 xin4 xin1

---

zi xin xin

---

zixinxin
tzu hsin hsin

---

tzuhsinhsin
Trust
To Have Faith
信賴

---

信赖
shinrai
xìn lài / xin4 lai4 / xin lai / xinlai
hsin lai / hsinlai
Confidence
Faithful Heart
信心
shin jin / shinjin
xìn xīn / xin4 xin1 / xin xin / xinxin
hsin hsin / hsinhsin
Sacrifice
Devotion
Dedication
獻身

---

献身
ken shin / kenshin
xiàn shēn

---

xian4 shen1

---

xian shen

---

xianshen
hsien shen

---

hsienshen
Self-Reliance
自恃
zì shì / zi4 shi4 / zi shi / zishi
tzu shih / tzushih
In some entries above you will see that characters have different versions above and below a line.
In these cases, the characters above the line are Traditional Chinese, while the ones below are Simplified Chinese.
Successful Chinese Character and Japanese Kanji calligraphy searches within the last few hours...
All of our calligraphy wall scrolls are handmade.
When the calligrapher finishes creating your artwork, it is taken to my art mounting workshop in Beijing where a wall scroll is made by hand from a combination of silk, rice paper, and wood.
After we create your wall scroll, it takes at least two weeks for air mail delivery from Beijing to you.
Allow a few weeks for delivery. Rush service speeds it up by a week or two for $10!
When you select your calligraphy, you'll be taken to another page where you can choose various custom options.
Check out my lists of Japanese Kanji Calligraphy Wall Scrolls and Old Korean Hanja Calligraphy Wall Scrolls.
Some people may refer to this entry as Confident Kanji, Confident Characters, Confident in Mandarin Chinese, Confident Characters, Confident in Chinese Writing, Confident in Japanese Writing, Confident in Asian Writing, Confident Ideograms, Chinese Confident symbols, Confident Hieroglyphics, Confident Glyphs, Confident in Chinese Letters, Confident Hanzi, Confident in Japanese Kanji, Confident Pictograms, Confident in the Chinese Written-Language, or Confident in the Japanese Written-Language.