Not what you want?
Try other similar-meaning words, fewer words, or just one word.


Chinese Wine in Chinese...
Buy a Chinese Wine calligraphy wall scroll here!
Personalize your custom "Chinese Wine" project by clicking the button next to your favorite "Chinese Wine" title below...

葡萄酒 is the Chinese, Japanese Kanji, and old Korean Hanja for wine.

Very specifically, this is for grape wine (an important distinction in Asia where most wine was rice-based until western influences came into play).

The first word, 葡萄 literally means grape (or grapevine), and 酒 means alcohol (generic term for alcohol, sake, wine, liquor).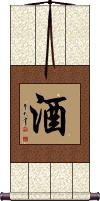 酒 is the Chinese character, Korean Hanja, and Japanese Kanji that means alcohol.

This can refer to wine (esp. rice wine), liquor, spirits, sake, or to alcoholic beverages in general.

In the west, we tend to say "sake" to mean Japanese rice wine, however, this character is a little ambiguous in Japanese. It literally just means alcohol, and is often pronounced "shu" in Japanese. Specifically, in Japanese, you might want to ask for "seishu" or 清酒 to get the sake that you are used to in the west. Seishu literally means "clear alcohol".

酒池肉林 is a Chinese idiom that is also somewhat known in Japanese and Korean.

酒池肉林 literally means, "lakes of wine and forests of meat".

Figuratively, it refers to debauchery, sumptuous entertainment, a sumptuous feast, or any kind of ridiculously-lavish spread of food and wine.
This in-stock artwork might be what you are looking for, and ships right away...
The following table may be helpful for those studying Chinese or Japanese...
Title
Characters
Romaji

(Romanized Japanese)

Various forms of Romanized Chinese
Wine
葡萄酒
bu dou shu / bu dou sake

---

budoushu / budousake

---

bu do shu / bu do sake

---

budoshu / budosake
pú tao jiǔ

---

pu2 tao5 jiu3

---

pu tao jiu

---

putaojiu
p`u t`ao chiu

---

putaochiu

---

pu tao chiu
Wine
Alcohol
Sake
酒
sake / shu
jiǔ / jiu3 / jiu
chiu
Sumptuous Debauchery
酒池肉林
shu chi niku rin

---

shuchinikurin
jiǔ chí ròu lín

---

jiu3 chi2 rou4 lin2

---

jiu chi rou lin

---

jiuchiroulin
chiu ch`ih jou lin

---

chiuchihjoulin

---

chiu chih jou lin
Not the results for chinese wine that you were looking for?
Below are some entries from our dictionary that may match your chinese wine search...
Characters

If shown, 2nd row is Simp. Chinese

Pronunciation
Romanization
Simple Dictionary Definition

尊

see styles
zūn
zun1

---

tsun

---

son
そん

---

(1) zun (ancient Chinese wine vessel, usu. made of bronze); (prefix) (2) (archaism) (honorific or respectful language) honorific prefix referring to the listener; (suf,ctr) (3) counter for buddhas; (female given name) Mikoto

---

To honour. ārya; honoured, honourable; to honor

爵

see styles
jué
jue2

---

chüeh

---

shaku; saku(ok)
しゃく; さく(ok)

---

(1) jue (ancient 3-legged Chinese wine pitcher, usu. made of bronze); (2) peerage (hereditary title bestowed by the emperor); (female given name) Tsukasa

溫酒

---

温酒

see styles
wēn jiǔ
wen1 jiu3

---

wen chiu

白酒

see styles
bái jiǔ
bai2 jiu3

---

pai chiu

---

paichuu / paichu
パイチュウ

---

baijiu (distilled Chinese alcohol, made from fermented grains) (chi: báijiǔ)

老酒

see styles
lǎo jiǔ
lao3 jiu3

---

lao chiu

---

roushu; raochuu; raochuu / roshu; raochu; raochu
ろうしゅ; ラオチュー; ラオチュウ

---

(1) (ラオチュー is the Chinese name) (See 紹興酒) fermented Chinese alcoholic beverage (esp. Shaoxing wine) (chi: lǎojiǔ); (2) (ろうしゅ only) old alcohol

艾酒

see styles
ài jiǔ
ai4 jiu3

---

ai chiu

葷酒

---

荤酒

see styles
hūn jiǔ
hun1 jiu3

---

hun chiu

---

kunshu
くんしゅ

---

Non-vegetarian foods and wine; non-vegetarian foods and wine

醉蝦

---

醉虾

see styles
zuì xiā
zui4 xia1

---

tsui hsia

香山

see styles
xiāng shān
xiang1 shan1

---

hsiang shan

---

koyama
こやま

---

(surname) Koyama

---

the fragrant or incense mountains, so called because the Gandharvas do not drink wine or eat meat, but feed on incense or fragrance and give off fragrant odours. As musicians of Indra, or in the retinue of Dhṛtarāṣtra, they are said to be the same as, or similar to, the Kinnaras. They are, or according to M. W., Dhṛtarāṣtra is associated with soma, the moon, and with medicine. They cause ecstasy, are erotic, and the patrons of marriageable girls; the apsaras are their wives, and both are patrons of dicers.; Gandhamādana. Incense mountain, one of the ten fabulous mountains known to Chinese Buddhism, located in the region of the Anavatapta lake in Tibet; also placed in the Kunlun range. Among its great trees dwell the Kinnaras, Indra's musicians.

女兒紅

---

女儿红

see styles
nǚ ér hóng
nu:3 er2 hong2

---

nü erh hung

紹興酒

---

绍兴酒

see styles
shào xīng jiǔ
shao4 xing1 jiu3

---

shao hsing chiu

---

shoukoushu; shaoshinchuu; shaoshinchuu / shokoshu; shaoshinchu; shaoshinchu
しょうこうしゅ; シャオシンチュウ; シャオシンチュー

---

shaoxingjiu (Chinese alcohol made from rice or glutinous millet) (chi: shàoxīngjiǔ)

ラオチュウ

see styles
raochuu / raochu
ラオチュウ

ラオチュー

see styles
raochuu / raochu
ラオチュー
Many custom options...




And formats...



Successful Chinese Character and Japanese Kanji calligraphy searches within the last few hours...
All of our calligraphy wall scrolls are handmade.
When the calligrapher finishes creating your artwork, it is taken to my art mounting workshop in Beijing where a wall scroll is made by hand from a combination of silk, rice paper, and wood.
After we create your wall scroll, it takes at least two weeks for air mail delivery from Beijing to you.
Allow a few weeks for delivery. Rush service speeds it up by a week or two for $10!
When you select your calligraphy, you'll be taken to another page where you can choose various custom options.
Check out my lists of Japanese Kanji Calligraphy Wall Scrolls and Old Korean Hanja Calligraphy Wall Scrolls.
Some people may refer to this entry as Chinese Wine Kanji, Chinese Wine Characters, Chinese Wine in Mandarin Chinese, Chinese Wine Characters, Chinese Wine in Chinese Writing, Chinese Wine in Japanese Writing, Chinese Wine in Asian Writing, Chinese Wine Ideograms, Chinese Chinese Wine symbols, Chinese Wine Hieroglyphics, Chinese Wine Glyphs, Chinese Wine in Chinese Letters, Chinese Wine Hanzi, Chinese Wine in Japanese Kanji, Chinese Wine Pictograms, Chinese Wine in the Chinese Written-Language, or Chinese Wine in the Japanese Written-Language.
4 people have searched for Chinese Wine in Chinese or Japanese in the past year.
Chinese Wine was last searched for by someone else on Oct 10th, 2021