Not what you want?
Try other similar-meaning words, fewer words, or just one word.

Enter your email below, and get an automatic notice when results for Awake are added or updated...
Awake in Chinese / Japanese...
Buy an Awake calligraphy wall scroll here!
Personalize your custom "Awake" project by clicking the button next to your favorite "Awake" title below...
Bodhi - Awakening Enlightenment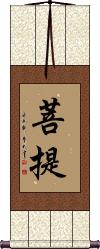 The Bodhi or 菩提 is the moment of completion in Buddhism.

It is when all things become known, and you have completed your journey to enlightenment.

The reference is to the Bodhi tree where Siddhartha Gautama (the legendary man and who established the Buddhist religion), achieved enlightenment. Sometimes this is referred to as "the tree of enlightenment" but if you want the full version with the character for tree on the end, please see our other entry.
---
See Also: Buddhism | Buddha | Nirvana | Enlightenment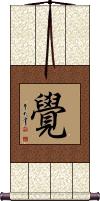 覺 can mean to feel; to figure out; thinking; awake; aware; bodhi; knowing; understanding; enlightenment; illumination; apprehend; perceive; realize.

覺 is a character that is impossible to define in a single word.

This term is often associated with Buddhism where it's understood to be: Illumination, enlightenment, or awakening in regard to the real in contrast to the seeming. However, it can also refer to enlightenment in regard to morality and evil.
---
Notes:

In Japanese, this can be the personal name Satoru.

In certain context, and only when pronounced as "jiao" in Chinese, it can refer to a nap, sleep or the state of sleeping. However, as a single character on a wall scroll, everyone will read this with the awareness or enlightenment context.

By no means is this the only way to write enlightenment. In fact, you should only choose this character if you are looking more for a word meaning awareness.
---
See Also: Enlightenment | Wisdom | Knowledge
Sit Quietly in Meditation
A state of mind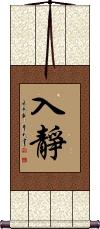 This title is used in Taoism and Qi Gong to describe the state you can reach while sitting quietly in meditation. It contains the ideas of achieving a highly-tranquil and peaceful state. Some may describe this state as "sleeping while still awake".

If you have a relaxation or meditation room, this is the calming wall scroll that you would want hanging in that room.
6. Right Effort / Right Endeavor / Perfect Effort
Samyag Vyayama / Samma Vayama

正精進 is one of the Noble Eightfold Paths of Buddhism. Right Effort, along with Right Mindfulness and Right Concentration constitute the path to Concentration or Perfect Thought.

Proper effort is not the effort to make something particular happen. It is the effort to be aware and awake in each moment, the effort to overcome laziness and defilement, the effort to make each activity of our day meditation. This concept is about pursuing wholesome things that promote good karma.

Another definition: Cultivation of what is karmically wholesome and avoidance of what is karmically unwholesome.
---
This term is exclusively used by devout Buddhists. It is not a common term, and is remains an unknown concept to most Japanese and Chinese people.
---
See Also: Buddhism | Enlightenment | Noble Eightfold Path
Loving Heart / One's Love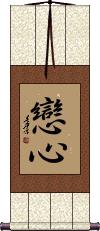 This literally means "loving heart". It can also be translated as "one's love" or "awakening of love".

戀心 is used exclusively for love between boyfriends and girlfriends or husband and wife.

Breaking down the meaning by each Kanji, the first means love, affection, or tender passion. The second Kanji means heart, mind, or soul (most will read it as heart).
---
See Also: Compassion | Love
The following table may be helpful for those studying Chinese or Japanese...
Title
Characters
Romaji

(Romanized Japanese)

Various forms of Romanized Chinese
Bodhi - Awakening Enlightenment
菩提
bodai
pú tí / pu2 ti2 / pu ti / puti
p`u t`i / puti / pu ti
Awareness
覺

---

觉
gaku / satoru
jué / jiào

---

jue2 / jiao4

---

jue / jiao

---

jue/jiao
chüeh chiao

---

chüehchiao
Sit Quietly in Meditation
入靜

---

入静
rù jìng / ru4 jing4 / ru jing / rujing
ju ching / juching
6. Right Effort
Right Endeavor
Perfect Effort
正精進

---

正精进
sei shou jin

---

seishoujin

---

sei sho jin

---

seishojin
zhèng jīng jìn

---

zheng4 jing1 jin4

---

zheng jing jin

---

zhengjingjin
cheng ching chin

---

chengchingchin
Loving Heart
One's Love
戀心

---

恋心
koi gokoro / koigokoro
In some entries above you will see that characters have different versions above and below a line.
In these cases, the characters above the line are Traditional Chinese, while the ones below are Simplified Chinese.
Not the results for awake that you were looking for?
Below are some entries from our dictionary that may match your awake search...
Characters

If shown, 2nd row is Simp. Chinese

Pronunciation
Romanization
Simple Dictionary Definition

佛

see styles
fó

/ fo2

---

fo

---

hotoke / ほとけ

More info & calligraphy:
Buddhism / Buddha

Buddha; Buddhism

---

(surname) Hotoke

---

Buddha, from budh to "be aware of", "conceive", "observe", "wake"; also 佛陀; 浮圖; 浮陀; 浮頭; 浮塔; 勃陀; 勃馱; 沒馱; 母馱; 母陀; 部陀; 休屠. Buddha means "completely conscious, enlightened", and came to mean the enlightener. he Chinese translation is 覺 to perceive, aware, awake; and 智 gnosis, knowledge. There is an Eternal Buddha, see e.g. the Lotus Sutra, cap. 16, and multitudes of Buddhas, but the personality of a Supreme Buddha, an Ādi-Buddha, is not defined. Buddha is in and through all things, and some schools are definitely Pan-Buddhist in the pantheistic sense. In the triratna 三寳 commonly known as 三寳佛, while Śākyamuni Buddha is the first "person" of the Trinity, his Law the second, and the Order the third, all three by some are accounted as manifestations of the All-Buddha. As Śākyamuni, the title indicates him as the last of the line of Buddhas who have appeared in this world, Maitreya is to be the next. As such he is the one who has achieved enlightenment, having discovered the essential evil of existence (some say mundane existence, others all existence), and the way of deliverance from the constant round of reincarnations; this way is through the moral life into nirvana, by means of self-abnegation, the monastic life, and meditation. By this method a Buddha, or enlightened one, himself obtains Supreme Enlightenment, or Omniscience, and according to Māhāyanism leads all beings into the same enlightenment. He sees things not as they seem in their phenomenal but in their noumenal aspects, as they really are. The term is also applied to those who understand the chain of causality (twelve nidānas) and have attained enlightenment surpassing that of the arhat. Four types of the Buddha are referred to: (1) 三藏佛the Buddha of the Tripiṭaka who attained enlightenment on the bare ground under the bodhi-tree; (2) 通佛the Buddha on the deva robe under the bodhi-tree of the seven precious things; (3) 別佛the Buddha on the great precious Lotus throne under the Lotus realm bodhi-tree; and (4) 圓佛the Buddha on the throne of Space in the realm of eternal rest and glory where he is Vairocana. The Hīnayāna only admits the existence of one Buddha at a time; Mahāyāna claims the existence of many Buddhas at one and the same time, as many Buddhas as there are Buddha-universes, which are infinite in number.

覺

---

觉

see styles
jué

/ jue2

---

chüeh

---

gaku / さとる

More info & calligraphy:
Awareness

to feel; to find that; thinking; awake; aware

---

(personal name) Satoru

---

bodhi, from bodha, 'knowing, understanding', means enlightenment, illumination; 覺 is to awake, apprehend, perceive, realize; awake, aware; (also, to sleep). It is illumination, enlightenment, or awakening in regard to the real in contrast to the seeming; also, enlightenment in regard to moral evil. Cf. 菩提 and 佛.

啟蒙

---

启蒙

see styles
qǐ méng

/ qi3 meng2

---

ch`i meng

/ chi meng

More info & calligraphy:
Enlightenment

to instruct the young; to initiate; to awake sb from ignorance; to free sb from prejudice or superstition; primer; enlightened; the Enlightenment; Western learning from the late Qing dynasty

寤

see styles
wù

/ wu4

---

wu

---

go

---

to awaken; to awaken

醒

see styles
xǐng

/ xing3

---

hsing

---

shō / すみとも

---

(personal name) Sumitomo

---

awaken; awaken

夢現

see styles

yumeutsutsu / ゆめうつつ

寤寐

see styles
wù mèi

/ wu4 mei4

---

wu mei

心性

see styles
xīn xìng

/ xin1 xing4

---

hsin hsing

---

shinsei / shinse / しんせい

---

mind; disposition; nature

---

Immutable mind-corpus, or mind-nature, the self-existing fundamental pure mind, the all, the Tathāgata-garbha, or 如來藏心; 自性淸淨心; also described in the 起信論 Awakening of Faith as immortal 不生不滅. Another definition identifies 心 with 性 saying 性卽是心, 心卽是佛 the nature is the mind, and mind is Buddha; another, that mind and nature are the same when 悟 awake and understanding, but differ when 迷 in illusion; and further, in reply to the statement that the Buddha-nature is eternal but the mind not eternal, it is said, the nature is like water, the mind like ice, illusion turns nature to mental ice form, awakening melts it back to its proper nature.

惺忪

see styles
xīng sōng

/ xing1 song1

---

hsing sung

提神

see styles
tí shén

/ ti2 shen2

---

t`i shen

/ ti shen

清醒

see styles
qīng xǐng

/ qing1 xing3

---

ch`ing hsing

/ ching hsing

猛醒

see styles
měng xǐng

/ meng3 xing3

---

meng hsing

覺悟

---

觉悟

see styles
jué wù

/ jue2 wu4

---

chüeh wu

---

kakugo

---

To awake, become enlightened, comprehend spiritual reality; to awaken

阿分

see styles

awake / あわけ

冱える

see styles

saeru / さえる

冴える

see styles

saeru / さえる

庚申待

see styles

koushinmachi / koshinmachi / こうしんまち

起きる

see styles

okiru / おきる

利に聡い

see styles

rinisatoi / りにさとい

半夢半醒

---

半梦半醒

see styles
bàn mèng bàn xǐng

/ ban4 meng4 ban4 xing3

---

pan meng pan hsing

半睡半醒

see styles

hansuihansei / hansuihanse / はんすいはんせい

半醒半睡

see styles

hanseihansui / hansehansui / はんせいはんすい

夢うつつ

see styles

yumeutsutsu / ゆめうつつ

寝ぼける

see styles

nebokeru / ねぼける

寝惚ける

see styles

nebokeru / ねぼける

庚申待ち

see styles

koushinmachi / koshinmachi / こうしんまち

目ざめる

see styles

mezameru / めざめる

目覚める

see styles

mezameru / めざめる

目醒める

see styles

mezameru / めざめる

眠け覚し

see styles

nemukezamashi / ねむけざまし
Many custom options...




And formats...



Successful Chinese Character and Japanese Kanji calligraphy searches within the last few hours...
All of our calligraphy wall scrolls are handmade.
When the calligrapher finishes creating your artwork, it is taken to my art mounting workshop in Beijing where a wall scroll is made by hand from a combination of silk, rice paper, and wood.
After we create your wall scroll, it takes at least two weeks for air mail delivery from Beijing to you.
Allow a few weeks for delivery. Rush service speeds it up by a week or two for $10!
When you select your calligraphy, you'll be taken to another page where you can choose various custom options.
Check out my lists of Japanese Kanji Calligraphy Wall Scrolls and Old Korean Hanja Calligraphy Wall Scrolls.
Some people may refer to this entry as Awake Kanji, Awake Characters, Awake in Mandarin Chinese, Awake Characters, Awake in Chinese Writing, Awake in Japanese Writing, Awake in Asian Writing, Awake Ideograms, Chinese Awake symbols, Awake Hieroglyphics, Awake Glyphs, Awake in Chinese Letters, Awake Hanzi, Awake in Japanese Kanji, Awake Pictograms, Awake in the Chinese Written-Language, or Awake in the Japanese Written-Language.
27 people have searched for Awake in Chinese or Japanese in the past year.
Awake was last searched for by someone else on Mar 18th, 2019