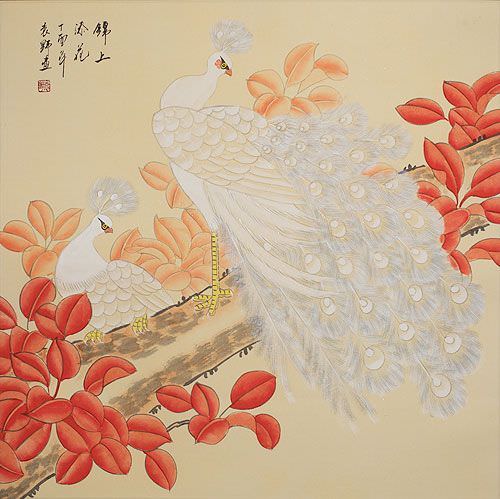 Approximate Measurements
Artwork Panel: 64.4cm x 64.5cm ≈ 25¼" x 25¼"
Silk/Brocade Border: 73.6cm x 73.3cm ≈ 29" x 28¾"




White Peacocks in Autumn Sumac Tree
This painting features two white peacocks on the branch of a sumac tree. In traditional Chinese culture, peacocks are considered birds of good luck or fortune. Their presence represents kindness, beauty, love, purity, and elegance.


The Chinese title is 錦上添花 or "Jǐn shàng tiān huā". This suggests having something good and making it better, like "Icing on the cake". However, the more direct translation is something like, adding flowers to brocade.

The characters after the title read 丁酉年夏月 which is an ancient way to indicate this was painted in 2017. The artist signed it, 袁野畫, or "Yuan Ye Painted" (畫 is a character that in this context means, "painted by").

Materials used are watercolors on handmade xuan paper. The painting was then mounted with a copper-brown-colored silk brocade matting/border.
---
About the Artist:
This was hand painted by


(Yuan Ye) who lives near Guilin in Southern China. Most of his paintings feature fish which are his specialty.