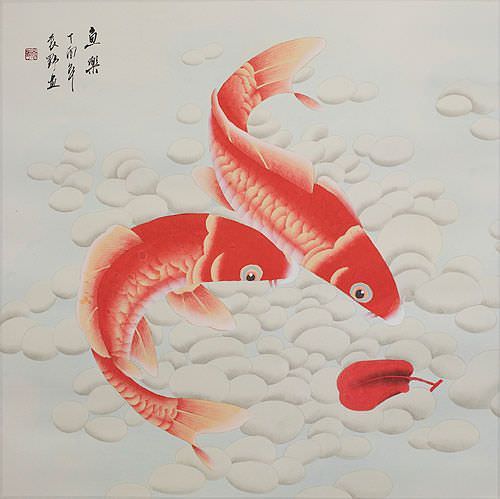 Approximate Measurements
Artwork Panel: 64.3cm x 64.6cm ≈ 25¼" x 25½"
Silk/Brocade Border: 73.6cm x 73.5cm ≈ 29" x 29"


Two Koi Fish Having Fun in the Bubbles
I fell in love with these koi fish when I saw a small stack of paintings at a little gallery where the artist was represented. They have a certain naïve quality, like a woodcut print or folk art. Though in other ways, they are a bit abstract. I can't put my finger on it, but they really caught my eye when I walked into that gallery in Guilin, China. It could have been the jet-lag, as I had been in 4 countries in the past 5 days. But even today, months later, I am still loving these koi fish. I ended up with 4 good ones, so perhaps 3 will be for sale eventually, and the 4th will go on my wall.

The Chinese title is 魚樂 which means "Fish [having] Fun".
The characters after that read, 丁酉年 which is an ancient way to indicate this was painted in 2017. The artist signed it, 袁野畫, or "Yuan Ye Painted" (畫 is a character that in this context means, "painted by").

These colorful carp are associated strongly with both Japanese and Chinese cultures. Beautiful garden parks in the cities around China are often graced with a pond full of these fish throughout the year. They are a very strong fish as they can be seen swimming slowly under thick sheets of ice in lakes during the brutal Winter of northern China.
Also, in Mandarin Chinese, "fish" is pronounced "Yu" which is the same pronunciation as the word meaning "wealth" or "abundance". So many Chinese people believe that having a painting of fish in your home will bring you wealth and riches.
Materials used are special black and red-orange Chinese ink on a handmade xuan paper. The painting was then mounted with a copper-brown-colored silk brocade matting/border.
---
About the Artist:
This was hand painted by


(Yuan Ye) who lives near Guilin in Southern China. Most of his paintings feature fish which are his specialty.