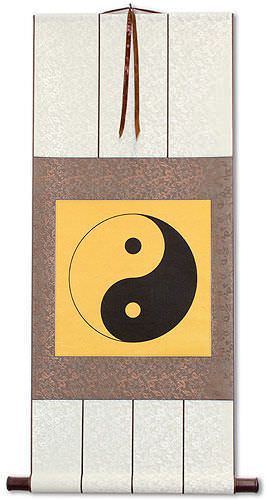 Approximate Measurements
Artwork Panel: 30.2cm x 30.3cm ≈ 11¾" x 12"
Silk/Brocade: 39.1cm x 92.6cm ≈ 15¼" x 36½"
Width at Wooden Knobs: 48.1cm ≈ 19"
Yin Yang
This is a print of the famous Daoist/Taoist Yin Yang symbol. It is printed on handmade/handpressed orange kozo with a high-fiber content (you will see lots of fibers pressed into this paper). The artwork was then mounted to to a handmade two-tone silk brocade wall scroll.

The result is a beautiful and elegant presentation of the legendary Yin Yang.

The print was created on a new Canon fine art giclee printer using UV-resistant ink. The fine lines and complex geometry would make it impractical to paint this artwork by hand.