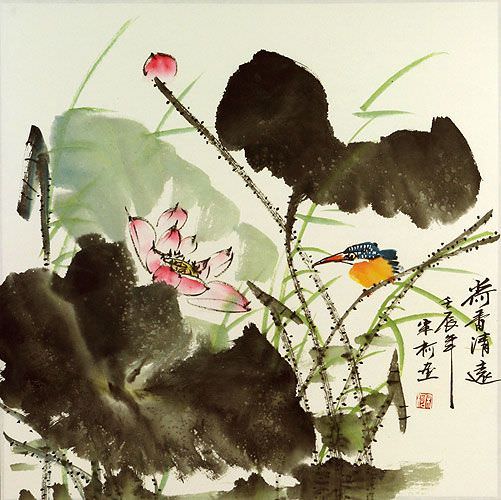 Approximate Measurements
Artwork Panel: 49cm x 48.6cm ≈ 19¼" x 19"
Silk/Brocade Border: 59cm x 58.7cm ≈ 23¼" x 23"




Lotus Frangrance Travels Far - Birds and Lotus Painting
Hé Xiāng Qīng Yuǎn
This painting features a colorful bird perched on the stalk of a lotus plant. The title, 荷香清遠 or "Hé Xiāng Qīng Yuǎn", can be translated as "Lotus Fragrance Travels Far" or more literally, "Lotus Fragrance, Distinct/Purity [can be smelled] Far [away]".

The artist's name is 宋柯 or "Sòng Kē" from near Guilin, China.