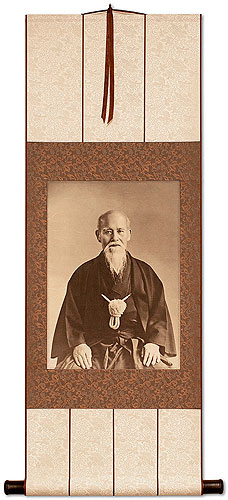 Approximate Measurements
Artwork Panel: 28cm x 39.8cm ≈ 11" x 15¾"
Silk/Brocade: 37.3cm x 101.8cm ≈ 14¾" x 40"
Width at Wooden Knobs: 46.3cm ≈ 18¼"
Morihei Ueshiba O'Sensei
Fine Art Giclee Print
This features the father of Aikido, Morihei Ueshiba O'Sensei. I made one of these at the request of a customer. Just to be safe, I often make two print for custom work, in case one has a flaw or problem. In this case, the second came out as good at the first, so it's for sale here.
---
About the Art
This is printed on handmade/hand-pressed Orange "Unryu Kozo" paper with many kozo (mulberry) fibers pressed into the content (you will see lots of thick fibers pressed into this paper).

This print was then taken to my mounting shop in Beijing where a hand-made silk wall scroll was created.
This wall scroll then flew with me from China to the USA and is now located at my San Diego, California gallery, ready to be shipped to you.