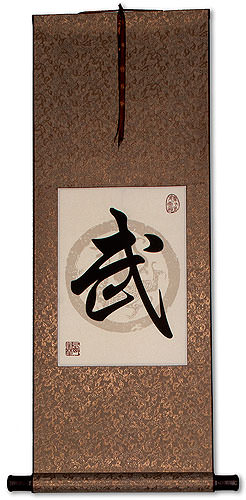 Approximate Measurements
Artwork Panel: 23.9cm x 33.3cm ≈ 9½" x 13"
Silk/Brocade: 33cm x 88.7cm ≈ 13" x 35"
Width at Wooden Knobs: 42cm ≈ 16½"

Wu
Warrior Spirit / Martial
This is the character 武 which can be translated as "warrior spirit" but is also the "martial" from terms like "martial arts". In some ancient contexts, it can mean military or military arts. This character is pronounced "Wu" in Mandarin Chinese and "Bu" in Japanese.
---
My Little Experiment
I felt like messing around with doing some giclée print calligraphy with various backgrounds. I came up with some layouts that I really like, and passed them around with my Chinese and Japanese friends who gave them rave reviews.

After giclée printing them on Japanese-made kozo paper, I sent the raw artwork off to Beijing to my workshop where they were built into wall scrolls by hand.
If you want a custom print scroll with your design, or other calligraphy, just contact me.