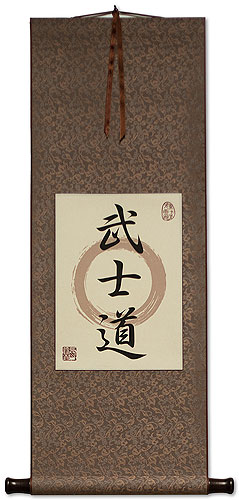 Approximate Measurements
Artwork Panel: 24cm x 33.1cm ≈ 9½" x 13"
Silk/Brocade: 33cm x 89.4cm ≈ 13" x 35¼"
Width at Wooden Knobs: 42cm ≈ 16½"



Bushido - The Way of the Samurai
This scroll features the Japanese Kanji for Bushido with an Enso or Zen Circle in the background.
---
My Little Experiment
I felt like messing around with doing some giclée print calligraphy with various backgrounds. I came up with some layouts that I really like, and passed them around with my Chinese and Japanese friends who gave them rave reviews.

After giclée printing them on Japanese-made kozo paper, I sent the raw artwork off to Beijing to my workshop where they were built into wall scrolls by hand.
If you want a custom print scroll with your design, or other calligraphy, just contact me.