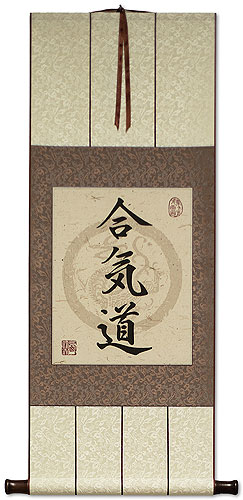 Approximate Measurements
Artwork Panel: 28.2cm x 35.8cm ≈ 11" x 14"
Silk/Brocade: 37.4cm x 97cm ≈ 14¾" x 38¼"
Width at Wooden Knobs: 46.4cm ≈ 18¼"



Aikido
This scroll features the Japanese Kanji for Aikido with a dragon stamp in the background.
Aikido is often referred to as the defensive martial art. While aikido was born in Japan, it has become a somewhat famous form of defensive tactics taught to soldiers and Marines, as well as some law enforcement officers in the west.

Looking at the Kanji, the first means "union" or "harmony".
The second Kanji means "universal energy" or "spirit".
The third means "way" or "method".