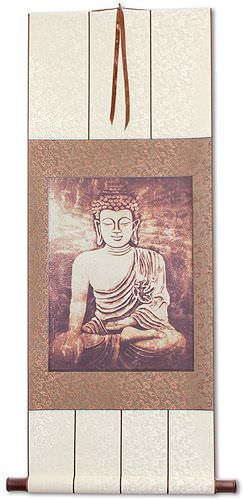 Approximate Measurements
Artwork Panel: 31.5cm x 41.9cm ≈ 12½" x 16½"
Silk/Brocade: 40.5cm x 104.1cm ≈ 16" x 41"
Width at Wooden Knobs: 49.5cm ≈ 19½"
Stone Buddha
This wall scroll features the image of a stone Buddha, giclee printed on kozo (mulberry) paper.

The paper is handmade, and so was the wall scroll itself. But to be clear, the artwork is a fine-art giclee print (otherwise, this would be a $200 wall scroll). I used very good archival UV ink from a brand-new Canon fine art giclee printer to create this print.

This wall scroll can be a great centerpiece to your altar, or as general decoration.