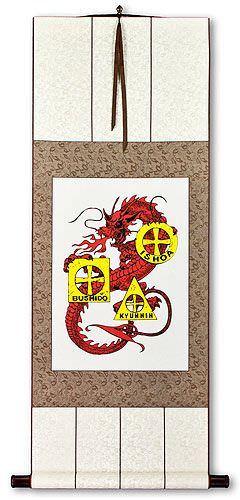 Approximate Measurements
Artwork Panel: 31.2cm x 43.8cm ≈ 12¼" x 17¼"
Silk/Brocade: 40.2cm x 107cm ≈ 15¾" x 42"
Width at Wooden Knobs: 49.2cm ≈ 19¼"
Bushido, Ishoa and Kyunnin Cross Dragon Wall Scroll
I was messing around with the design after a customer ordered a couple of these. I wanted to see what this would look like on Japanese Unryu Kozo paper.

This features a dragon in the background with the Bushido, Ishoa, and Kyunnin Crosses in the foreground.

While the wall scroll was handmade, this is a print (not hand-painted). It was printed using a $15000 giclee fine art printer with UV ink.
I have inquired and done research and could not find any copyright or trademark registration for this image. I am only charging a small amount for the materials, printing, and labor to build this wall scroll by hand, not the image. If you know more about this image, please let me know.