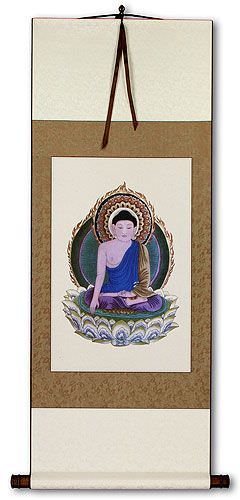 Approximate Measurements
Artwork Panel: 28cm x 39.8cm ≈ 11" x 15¾"
Silk/Brocade: 37.4cm x 102cm ≈ 14¾" x 40¼"
Width at Wooden Knobs: 46.4cm ≈ 18¼"
Buddhist Deity Print Wall Scroll
This wall scroll is designed to have a classic look.

It should be noted that this is a fine art giclee print. It was printed using a huge new Canon giclee printer using special handmade kozo paper.

This wall scroll can be a great centerpiece to your altar, or as general decoration.

Printing this kind of artwork (instead of hand-painted) keeps the price of the artwork affordable. This would be more than 5 to 10 times more if this was all hand-painted.

Just like hand-painted artwork, it is recommended to hang this print away from direct sunlight.