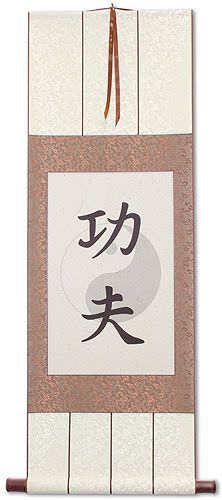 Approximate Measurements
Artwork Panel: 28.4cm x 45.3cm ≈ 11¼" x 17¾"
Silk/Brocade: 37.4cm x 107.5cm ≈ 14¾" x 42¼"
Width at Wooden Knobs: 46.4cm ≈ 18¼"
Discounted: This wall scroll has a very minor red spot in the upper silk panel along with a minor wrinkle.
Kung Fu
This is a print of the characters for Kung Fu (Gong Fu) with a gray Yin Yang symbol in the background.

This is giclee printed on handmade high-fiber Chinese xuan paper. The artwork was then mounted to a handmade two-tone silk brocade wall scroll.

The result is a beautiful and elegant presentation of Kung Fu.