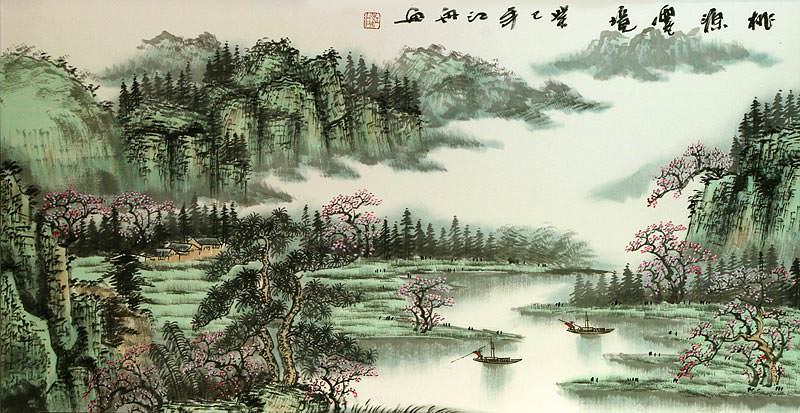 Approximate Measurements
Artwork Panel: 97.7cm x 51.4cm ≈ 38½" x 20¼"
Silk/Brocade Border: 117.8cm x 61.9cm ≈ 46¼" x 24¼"




Clouds of Shangra-La
This is the translation of the artist's title for this painting.
The Chinese title can also mean clouds of "the Garden of the Peaches of Immortality" or "the imaginary land of joy and plenty". This has been come to be known as Shangra-La, though this Chinese title uses the characters 桃源 (táo yuán). There is also some dispute as to whether this place existed, and where it was located (most Chinese claim in China, any Tibetan will say Tibet). The rest of the title, 雲境 just means "cloud environment".
---
About the Artist
The artist's name is 江舟 (Jiang Zhou). I don't have a lot of information about the artist, as I only met him in passing - I think I was in Guilin at the time, which is probably why the subject looks so much like the Li River of Guilin.
---
About the Artwork
Although this will not be cheap to frame when you receive it (because of the large size). I will certainly bring strong character to the room you hang it in.
This is painted on special xuan paper (rice paper) then mounted with white silk matting/border.
Please note: This painting includes a silk border similar to the what is shown above, but not a frame.
I recommend professional framing and matting for the best presentation of this work.