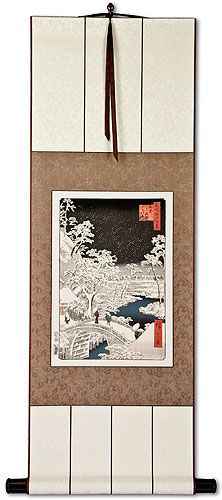 Approximate Measurements
Artwork Panel: 26cm x 37.3cm ≈ 10¼" x 14¾"
Silk/Brocade: 35cm x 100cm ≈ 13¾" x 39¼"
Width at Wooden Knobs: 44cm ≈ 17¼"







Snowy Drum bridge and Setting Sun Hill at Meguro
This is a mechanically-printed reproduction of a very old Japanese woodblock print. This was made months ago, rather than centuries ago.

Original artist: Utagawa Hiroshige 歌川 広重 (1797–1858)
Original woodblock was created in Japan, around 1857
---
This depicts a snowy scene at Taiko Bridge in Meguro, Tokyo. This was part of the series, "One Hundred Famous Views of Edo". This was number 111, part 4, depicting Winter.

There are multiple phrases that could be construed as titles. The one most used as the main title is:











Literally: Meguro Taiko Bridge, Sunset Hill.