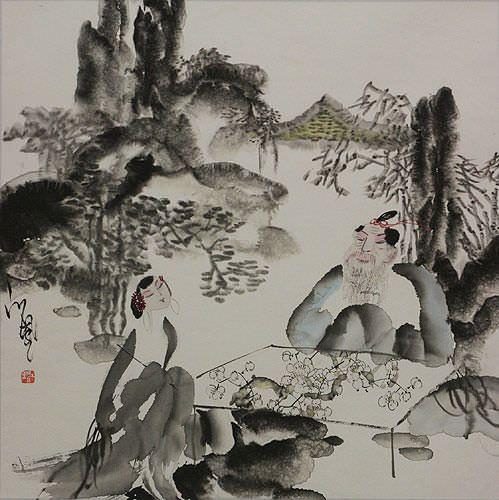 Approximate Measurements
Artwork Panel: 67.1cm x 66.9cm ≈ 26½" x 26¼"
Silk/Brocade Border: 77.1cm x 76.9cm ≈ 30¼" x 30¼"
Drinking Tea with a Beauty
This painting features an older man with a beard, sitting and drinking tea with a beautiful woman. She appears to be holding a flute, and may be taking a pause between songs.

The artist's name is Jiang Feng. He graduated in the 1980's from the Beijing Central Institute of Fine Arts, and has since had a successful career as an artist. His art has been awarded many times in various shows and exhibitions, and he boasts that collectors from Taiwan, Japan, Singapore, Canada, and Hong Kong have purchased his work. So I suppose it is my job to introduce his work to the states.
Jiang Feng's style is somewhere between abstract and realistic, but falls into neither category. It is simply his own style. I can tell from looking at his paintings that he does a lot of detail work, and then uses a bit of extra water to "run" the colors and create interesting patterns within the subjects.
He does not title his work, so you are left to your own imagination as to what each painting represents. But that should not be hard, as you can easily appreciate the beauty and subject of each one of his pieces.
---
The Chinese characters and red stamp that you see are the artist's signature:


This is painted on special xuan paper (rice paper) with a combination of Chinese black ink and watercolor. The paper is handmade, so expect a few artifacts such as husks, fibers, bits of pulp, etc. We then mounted the artwork with a silk border/matting. It will arrive at your door in a "ready-to-frame" condition.