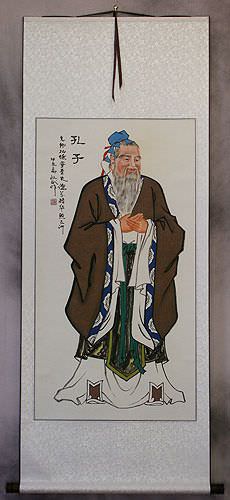 Approximate Measurements
Artwork Panel: 52cm x 98cm ≈ 20½" x 38½"
Silk/Brocade: 61.2cm x 154cm ≈ 24" x 60½"
Width at Wooden Knobs: 70.2cm ≈ 27½"

Old Confucius - The Great Sage
This wall scroll features Confucius, whose real name is Kong-Zi. His family name is "Kong", and the "Zi" is a title of distinction (especially used in ancient times).

Many in China still claim to be members of the Kong family, or at least distant relatives of Confucius. However, when the Cultural Revolution was about to begin, and Chairman Mao was taking power, virtually all members of the Kong family fled to Taiwan, never to return.

You can still visit the home of Confucius in Qufu, which is in Shandong Province of Northern China. It's a huge compound that had its own army, and status of a state within a state, much like the Vatican in Rome. The Kong family once wielded great influence, and even dictated that the train tracks be laid outside of Qufu city, as to not disturb the slumber of Confucius in his grave. Even today, it's a long taxi or bus ride from the nearest train station to the Confucius compound.
---
---
About the Art...
This is a very detailed painting that is mounted to a silk wall scroll. A lot of work went into this. It actually takes the artist about a half day to complete.
You won't be disappointed if you become the owner of this work of art. I guarantee it personally or your money back.
---
About the Artist...
The artist's name is



(Qing Jing-Bin). He was born in Guanxi Province (southern China). His specialty is paintings of mythological and historical figures of ancient China.