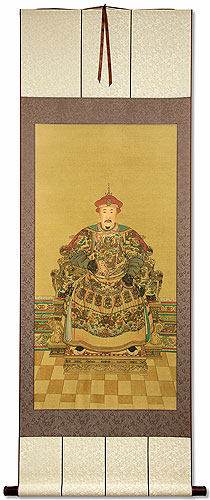 Approximate Measurements
Artwork Panel: 44.9cm x 89.8cm ≈ 17¾" x 35¼"
Silk/Brocade: 53.9cm x 150.5cm ≈ 21¼" x 59¼"
Width at Wooden Knobs: 62.9cm ≈ 24¾"
Emperor / Ancestor - Antique-Style Wall Scroll
This kind of artwork is often called an "ancestor painting". Though it's only your ancestor if you are a descendant of the Emperor.
This wall scroll is designed to have a classic look (like an antique).

It should be noted that this is a print.

The use of the fine art giclee printing process for this artwork keeps the price of the artwork affordable (it would be more than 3 times more if this was hand-painted).