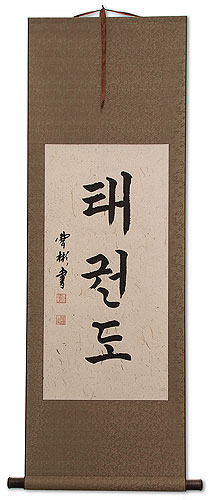 Approximate Measurements
Artwork Panel: 32.8cm x 67cm ≈ 13" x 26¼"
Silk/Brocade: 41.6cm x 124cm ≈ 16¼" x 48¾"
Width at Wooden Knobs: 50.6cm ≈ 20"
Reason for discount: Although not at all obvious in the image above, we got a funky batch of copper silk. It was not the normal rich and deep golden-brown color. Instead, it has a very slight shift towards olive drab when the light hits it just right. You probably won't notice this at all, but I'm really picky about stuff like this. So I am selling this at cost for such a minor issue.
Taekwondo
Korean Martial Arts