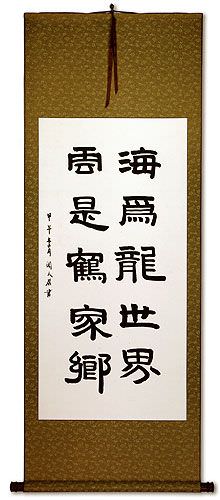 Approximate Measurements
Artwork Panel: 48.4cm x 98.4cm ≈ 19" x 38¾"
Silk/Brocade: 57.7cm x 153.5cm ≈ 22¾" x 60½"
Width at Wooden Knobs: 66.7cm ≈ 26¼"
This wall scroll is discounted because of some small dirty-looking spots in the painting.
Every Creature Has A Domain
海為龍世界雲是鶴家鄉 is a somewhat poetic way to say that everyone and everything has its place in the world.

Every Creature has a Domain The first line (which is the column on the right) says, "The Ocean is the World of the Dragon." The next column says, "The Clouds are the Domain of the Cranes."
Pronunciation in Mandarin is "hǎi wéi lóng shì jiè yún shì hè jiā xiāng."