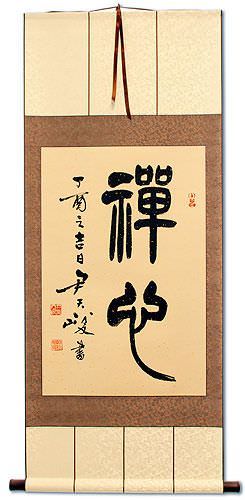 Approximate Measurements
Artwork Panel: 44cm x 66.6cm ≈ 17¼" x 26¼"
Silk/Brocade: 53.1cm x 128.1cm ≈ 21" x 50½"
Width at Wooden Knobs: 62.1cm ≈ 24½"


The Zen Heart / The Zen Mind
In Chinese, this is romanized as "Chan Xin" or "Chanxin" but in Japanese it is "Zen Shin" or "Zenshin".

The meaning of the first character is "meditation" and the second character is usually defined as "heart" or sometimes "mind".
Together, this title creates an image of your meditation coming from and filling your heart. It can be used either way, as a good meditation session must start with a centered heart or mind. Yet at the same time, meditation serves to cleanse, focus, and center the heart and mind.
---
About the artist:
The artist's name is 尹天峻 (Yin Tian-Jun).

He is from Yangwang, a small farming village in the Xinyi County of Shanxi Province. He was born in 1952 into a peasant farming family, but always had a love for calligraphy.

His parents may have been peasants, but they embraced scholarship and the arts. So, Yin Tian-Jun's noble endeavor into calligraphy was accompanied with full support to flourish.

Over the years, he kept practicing his art. Decades later, he traded in his plowshares for horse-hair brushes on a full time basis.
He now holds the title of vice president of the Shanxi Provincial Peasant Painting and Calligraphy Research Association. This group supports young peasant farmers who have amazing artistic talent to find an audience and access to a wider art market.

The latest news is that he took the additional position of Dean of the Shanxi Provincial Institute of Painting and Calligraphy.