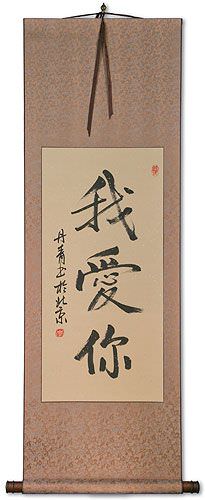 Approximate Measurements
Artwork Panel: 31.9cm x 65.1cm ≈ 12½" x 25½"
Silk/Brocade: 40.9cm x 123cm ≈ 16" x 48½"
Width at Wooden Knobs: 49.9cm ≈ 19½"



I LOVE YOU
This wall scroll says, "I love you" (wo ai ni) in Chinese. This could be a great gift, if there is someone in your life that you want to be reminded of your love daily.
---
This calligraphy was created by Li Dan-Qing of Beijing, China. Materials are xuan paper (known in the west incorrectly as "rice paper") mounted to a silk brocade wall scroll. Painted by hand, and the wall scroll is crafted by hand.