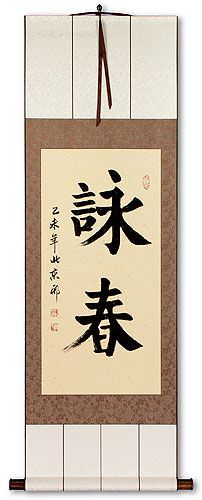 Approximate Measurements
Artwork Panel: 32cm x 67cm ≈ 12½" x 26¼"
Silk/Brocade: 41.6cm x 131cm ≈ 16¼" x 51½"
Width at Wooden Knobs: 50.6cm ≈ 20"


Wing Chun
DISCOUNTED: Has minor wrinkle in upper silk panel. Discounted to half price (would be $100, as this was written by a master calligrapher). This is a minor issue that is not that noticeable, but since the calligraphy is perfect, you can also cut the top and bottom of the scroll off and frame this.