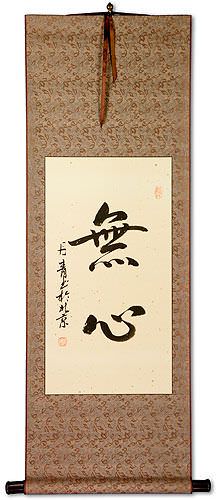 Approximate Measurements
Artwork Panel: 30.5cm x 56.9cm ≈ 12" x 22½"
Silk/Brocade: 39.3cm x 113.3cm ≈ 15½" x 44½"
Width at Wooden Knobs: 48.3cm ≈ 19"


Mushin
Japanese Kanji Calligraphy Wall Scroll
In Japanese, this word means innocent, or one with no knowledge of good and evil. It literally means "without mind".

This is one of the five spirits of the warrior (budo), and is often used as a Japanese martial arts tenet. Under that context, places such as the Budo Dojo define it this way: "No mind, a mind without ego. A mind like a mirror which reflects and dos not judge." The original term was "mushin no shin", meaning, "mind of no mind." It is a state of mind without fear, anger, or anxiety. Mushin is often described by the phrase, "mizu no kokoro", which means, "mind like water". The phrase is a metaphor describing the pond that clearly reflects it's surroundings when calm, but whose images are obscured once a pebble is dropped into its waters.

More info: Wikipedia: Mushin

This has a good meaning in conjunction with Chan / Zen Buddhism in Japan. However, out of that context, it means mindlessness or absent-minded. To non-Buddhists in China, this is associated with doing something without thinking.
In Korean, this usually means indifference.

Use caution and know your audience before ordering this wall scroll. Obviously, this is best if you are using the Japanese meaning in the context of martial arts of Buddhism.
---
About the artist:
This calligraphy was created by Li Dan-Qing of Beijing. He's an older gentleman who has been involved with the art community of China, all of his life. Now in retirement, he creates calligraphy for us for sort of "hobby income".
---
About the materials and construction of this wall scroll:
The calligraphy was done using black Chinese ink on xuan paper (known incorrectly in the west as "rice paper"). The raw artwork was then taken to our Wall Scroll Workshop where it was laminated to more sheets of xuan paper, and built into a beautiful silk brocade wall scroll. Except for the use of a lathe to turn the wooden knobs, this wall scroll is virutally 100% handmade from start to finish (even the paper is made by hand).