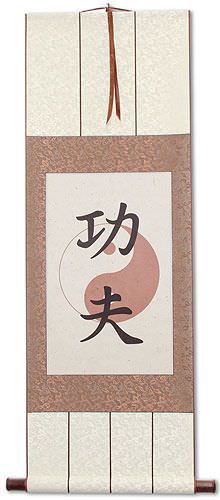 Approximate Measurements
Artwork Panel: 28.3cm x 45.1cm ≈ 11" x 17¾"
Silk/Brocade: 37.5cm x 107.5cm ≈ 14¾" x 42¼"
Width at Wooden Knobs: 46.5cm ≈ 18¼"


Kung Fu
If you practice the ancient art of Chinese martial arts and have the "skill" level known as Kung Fu (or Gong Fu) this is the wall scroll for you.
---
I created this design in one of my many experiments with my new giclee printer. In this case, I used handmade "grass leather" paper. I matched up the Kung Fu characters with a red-hued Yin Yang symbol in the background. Although created via graphic design, each one is unique as I keep changing the design and I am using handmade paper that varies with each sheet.