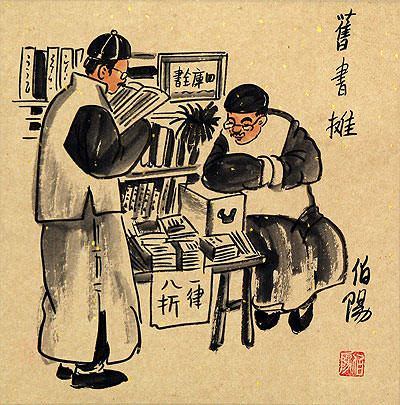 Approximate Measurements
Artwork Panel: 31.8cm x 32cm ≈ 12½" x 12½"
Silk/Brocade Border: 41.8cm x 42cm ≈ 16½" x 16½"



Second Hand Book Stand
This painting features a man looking through second-hand, ancient, or old books. You can still find used book stands like this in Beijing, though people no longer dress in late Qing Dynasty fashions as depicted in this painting. The second man appears to be the vendor who looks on, as he hopes or waits for a sale.
---
This painting comes from a series by the artist that depict life in old Beijing (old Peking). While Beijing has left a lot of the past behind with its new skyscrapers and demolition of the old alleyways and quadrangle houses, if you know where to look, you can still find many of these scenes in real life, even today.
---
About the artist:
The artist's name is


(Bo Yang). In Simplified Chinese:


.

He was born in 1957 and grew up in Hebei province (the area that surrounds the special capital district of Beijing / Peking). You can find his artwork for sale at various art markets and galleries around Beijing. All the old Beijingers recognize these classic scenes of traditional life. Modern times have caused some of the practices depicted in Bo Yang's paintings to virtually disappear. But, his paintings help the idea of this traditional Beijing lifestyle to live on.

Visitors and collectors from around the world have purchased his artwork, so don't be surprise if you find his folk art hanging in Europe, Hong Kong, Taiwan, Singapore, Australia, and the Americas. I've even seen his work in art museums around China.
---
More about the painting:
This is a combination of freehand and detail (gong bi) style painting. There are some loose flowing shadow areas, contrasted with somewhat-fine detailing of faces and other important parts of the painting.
This painting was created on antique-style tan or tea-stained xuan paper (xuan paper is often called rice paper, though it contains no rice) which has been mounted to a copper/gold-colored silk matting/border. The artist used special Chinese black ink and a bit of watercolor (for some of the skin tones). All these elements will give your artwork a great classic look after you frame it. I suggest a simple black moulding for your custom frame. Let the silk brocade be your border (which will save money compared to matting the painting when framing).