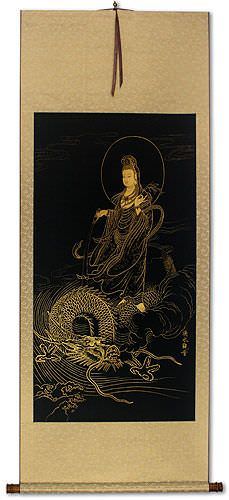 Approximate Measurements
Artwork Panel: 52cm x 98.1cm ≈ 20½" x 38½"
Silk/Brocade: 60.4cm x 154.4cm ≈ 23¾" x 60¾"
Width at Wooden Knobs: 69.4cm ≈ 27¼"
Guanyin Buddha and Dragon - Gold Etching Wall Scroll
This is a fun and unique etching that features Guanyin (The Goddess of Mercy and Compassion), and a dragon. It's black paper with rich gold-colored etching that is mounted as a museum-quality wall scroll. This is a great wall scroll for a backdrop of your Buddhist altar.