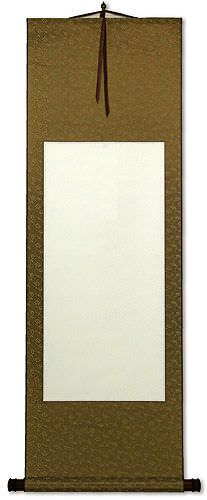 Approximate Measurements
Artwork Panel: 33cm x 69cm ≈ 13" x 27¼"
Silk/Brocade: 42.3cm x 124.5cm ≈ 16¾" x 49"
Width at Wooden Knobs: 51.3cm ≈ 20¼"
Blank Wall Scroll
While I've never been a big fan of providing blank scrolls to artists (better to just paint on raw xuan paper, and later have it mounted as a scroll - losing a piece of paper when an error is made, is less costly than losing a whole scroll). However, customers, at times have insisted that they want blank wall scrolls. I aim to please.