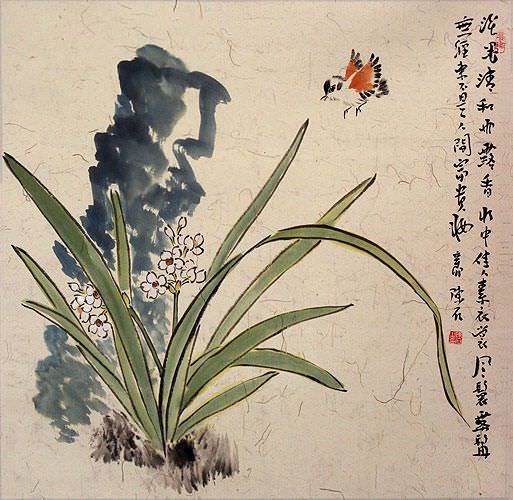 Approximate Measurements
Artwork Panel: 65.9cm x 67.1cm ≈ 26" x 26½"
Silk/Brocade Border: 75.9cm x 77.1cm ≈ 29¾" x 30¼"




























Ancient Chinese Style Bird and Daffodil Flower
This features a tiny bird flying towards some daffodils. The title is a poem about the view, the scent and unworldly but simple beauty of the daffodil. It was written by Li Dong-Yang during the Ming Dynasty. The rest of the inscription is 辛卯 陳石 which indicates the year painted (2011) and the artist's signature (Chen Shi).

What's more unique about this painting is the wonderful handmade paper that was used to create it. This xuan paper was handmade with coarse natural fibers and bits of husks and unbleached pulp pressed into the paper. This gives a very unique and ancient look to the whole piece.

I give this my highest recommendation, which means I will even pay for your return postage if you are not delighted, and I do mean DELIGHTED by the quality and beauty of this piece. I hand-selected this myself during my last trip to Jinan from several pieces offered by this artist - it is the best of the best!

As with all of the watercolor artwork that I offer, this is 100% Hand-painted.
---
About the Artist:
The artist's name is


(Chen Shi). He's from the Jinan area of Shandong Province in Northern China.