Sold Out
Sorry you missed it.
• Fine Art Giclée Print.
• Handmade Wall Scroll.
• Money-Back Guarantee.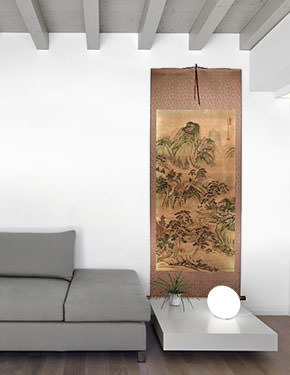 This landscape artwork will look great in your home or office.





Scenery of Pine Mountain
This is a reproduction of a Ming Dynasty painting. There are two noblemen standing in the lower-left portion. They stand there, taking in the wondrous view of the pine-laden mountains before them. There are a lot of hidden features that you will discover in the image. Village homes and ghostly pagodas pepper the hillside. Each time you look at this, you will find something new. Perhaps in this small image of the huge artwork, you will find the young boy hiking along to join the noblemen - you can't do this artwork justice until you see it in person.

The pine trees are not the typical ones you see in the western hemisphere. They are related to Torrey Pines with staggered branches that grow like enormous bonsai trees.

The special handmade tea-stained paper gives this a lovely antique look. Even though this is a partial print that is finished with some handwork, each one is unique because of the handwork and mottling in the handmade paper.
This item was listed or modified
Sep 15th, 2020
Sold Out
Sorry you missed it.
Related and Recommended Items...