Diao Chan
Deadliest of the Four Beauties of Ancient China.
The title of this piece can be translated as "Diao Chan Praying in the Moonlight".
About the Four Beauties of China:
In Chinese culture, there are four famous beautiful woman of China.
They are thought to be the most beautiful and significant woman of China's ancient history.
Although the stories about these woman are based on fact, they are also steeped in legend.
These woman have remained famous through history because of the drastic effects on the emperors, kings, and kingdoms with whom they were bound.
Some of the beauties brought kingdoms and dynasties to their knees.
Most of the beauties had lives that ended in tragedy or mystery.
The legend and history of these woman has inspired Chinese artists for generations to create paintings that depict these four famous beauties of ancient China.
---
More about the beauty depicted on this scroll:
The woman in this painting is known as "Diao Chan Xi Hua"
She is usually just referred to as "Diao Chan", and she was a key player in the epic novel, "The Romance of the Three Kingdoms". Just like "Homer's Odyssey", nobody seems sure if the facts in the novel are truth, or fiction. But the legend of this woman is so strong that she lives on, regardless of whether she actually existed.
---
Her Story:
Diao Chan's legend is that she was so beautiful the she could cause men who were the closest of
During Three Kingdoms Period of China (220 A.D. - 280 A.D.), a man named Dong Zhuo was becoming the tyrant of the land; doing everything he could to gain more power.
After leveling false accusations against an official with whom he found displeasure, and then having that official beheaded on the spot, many were concerned for the future of the kingdom.
Diao Chan in an effort to have the evil Dong Zhuo removed from power, allowed herself to become betrothed to a warrior named Lu Bu. At the same time, she was offered as a concubine to Dong Zhuo. The plan was to infuriate the two men so much, that Lu Bu would finally kill Dong Zhuo. Every chance she had, she would fuel the fire between these two men. It is said that these men were so blinded by her beauty that they could not see the plot and trap that she had laid before them. With both men filled with rage, the warrior Lu Bu joined a plot to assassinate Dong Zhuo.
The plot was successful. Dong Zhuo was killed. His clan put into disarray, and taken from power.
For her part in manipulating the two men, Diao Chan was murdered by the surviving members of Dong Zhuo's clan.
You can draw your own conclusions about the lessons to be learned from this tale. If you want the whole story, you will have to read the book yourself.
---
This work was done in Chengdu by Huang Xin'an (Pronounced a little bit like "who-ong shin un") from the Sichuan (Szechwan) Province of China.
After I bought this work in Chengdu, I later returned to Beijing and had it mounted as a traditional hand-made silk scroll in our workshop. This makes a nice, ready-to-hang piece of wonderful hand-painted art.
---
The story behind how I found this art...
I lost track of Huang Xin'an after my last trip to Chengdu. His phone number was out of order, and I was disappointed that I could not contact him to get more of his paintings.
I make the decision to go to Chengdu on my new art-buying trip mostly because of him.
After 15 hours on a slow train, I arrive in Chengdu. I check-in at Sam's Guesthouse (a hangout for backpackers from around the world, and a hostel with reasonably-priced beds). After a much-needed shower, I head out to find Huang Xin'an.
Taxis drive at the speed-of-light in Chengdu (the city boasts over 1000 fatal auto accidents per year), I arrive in no-time at the place I last found Mr. Huang. Sure enough, as I walk down the alley toward his gallery, he sees me and runs out to greet me. I'm really happy to see him, and the feeling is mutual.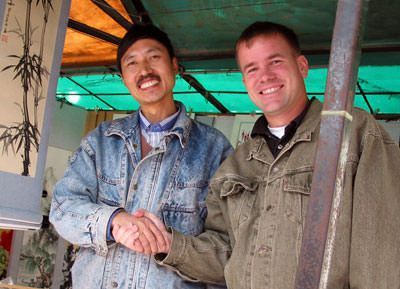 I tell him how I came to Chengdu just to buy art from him (after not being able to reach him on the phone). He is so honored that I think he wants to hug me. He offers me a chair, and says he's painted a lot of work over that last 9 months with both me and my customers in mind. I was also honored by this gesture. He shows me a lot of new work in styles that I like.
I spend 2 days with Mr. Huang and we talk about a lot of new ideas and artwork that I think my western customers will like. He offers to close his gallery for a few days, and paint the art that I asked for. So I took a few days to meet and visit other artists in Chengdu. When I return to Mr. Huang's gallery, I am not disappointed. He did such a great job, words can't describe.
This item was listed or modified
Dec 24th, 2012