Typical Gallery Price: $100.00
$46.88
Sold Out
Sorry you missed it.
• Handmade Wall Scroll.
• Money-Back Guarantee.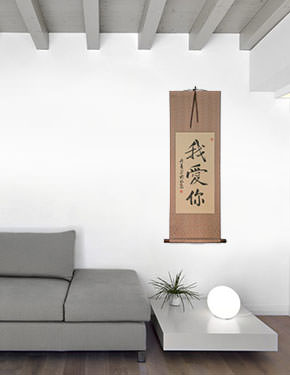 This calligraphy artwork will look great in your home or office.



I LOVE YOU
This wall scroll says, "I love you" (wo ai ni) in Chinese. This could be a great gift, if there is someone in your life that you want to be reminded of your love daily.
---
This calligraphy was created by Li Dan-Qing of Beijing, China. Materials are xuan paper (known in the west incorrectly as "rice paper") mounted to a silk brocade wall scroll. Painted by hand, and the wall scroll is crafted by hand.
This item was listed or modified
Dec 28th, 2018
Typical Gallery Price: $100.00
$46.88
Sold Out
Sorry you missed it.
---
Related and Recommended Items...